What are you currently reading?

Everneath (Everneath #1) by Brodi Ashton
Last spring, Nikki Beckett vanished, sucked into an underworld known as the Everneath. Now she's returned—to her old life, her family, her boyfriend—before she's banished back to the underworld . . . this time forever. She has six months before the Everneath comes to claim her, six months for good-byes she can't find the words for, six months to find redemption, if it exists.
Nikki longs to spend these precious months forgetting the Everneath and trying to reconnect with her boyfriend, Jack, the person most devastated by her disappearance—and the one person she loves more than anything. But there's just one problem: Cole, the smoldering immortal who enticed her to the Everneath in the first place, has followed Nikki home. Cole wants to take over the throne in the underworld and is convinced Nikki is the key to making it happen. And he'll do whatever it takes to bring her back, this time as his queen.
As Nikki's time on the Surface draws to a close and her relationships begin slipping from her grasp, she is forced to make the hardest decision of her life: find a way to cheat fate and remain on the Surface with Jack or return to the Everneath and become Cole's queen.
What have you recently finished reading?
Things We Never Said (Hart's Boardwalk #3) by Samantha Young
Local metalsmith and gift shop owner, Dahlia McGuire, likes her quiet life in Hartwell, Delaware. It's the perfect place to hide from her family and the tragic events that led to their estrangement. However, when her father, the person she loves most in the world, needs her Dahlia has no choice but to return to Boston to face her ghosts. One of those happens to be her ex-boyfriend's best friend, Michael Sullivan. The man she was never supposed to fall in love with.
Michael Sullivan has never forgotten Dahlia McGuire. Some might say he's never gotten over her. For years he lived with the anger of her desertion, and now, newly-divorced, he's finally ready to move on. That proves impossible when Dahlia returns to Boston and reawakens their explosive connection. Despite everything, Michael wants her back, but Dahlia can't seem to let go of the tangled emotions of the past. When she flees home to Hartwell, Michael follows, determined to do everything in his power to convince her they belong together.
However, when the unthinkable hits the quiet seaside town, Michael finds himself trying to unravel more than the mystery of Dahlia's broken heart. It's time for truths left unsaid to finally be spoken or Michael and Dahlia might find themselves torn apart forever…
What do you think you'll read next?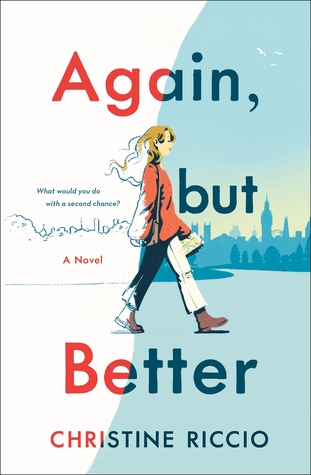 Again, but Better by Christine Riccio
Shane has been doing college all wrong. Pre-med, stellar grades, and happy parents…sounds ideal—but Shane's made zero friends, goes home every weekend, and romance…what's that?
Her life has been dorm, dining hall, class, repeat. Time's a ticking, and she needs a change—there's nothing like moving to a new country to really mix things up. Shane signs up for a semester abroad in London. She's going to right all her college mistakes: make friends, pursue boys, and find adventure!
Easier said than done. She is soon faced with the complicated realities of living outside her bubble, and when self-doubt sneaks in, her new life starts to fall apart.
Shane comes to find that, with the right amount of courage and determination one can conquer anything. Throw in some fate and a touch of magic—the possibilities are endless.