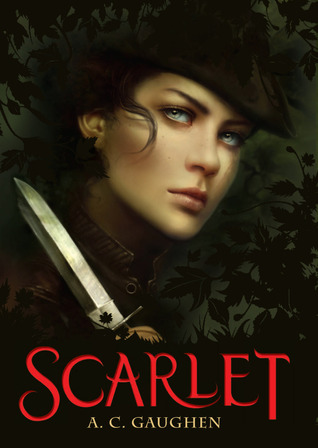 Scarlet by A.C. Gaughen
Series: Scarlet #1
Release Date: February 14, 2012
Genres: Fantasy, retellings
Rating: 🌟 🌟 🌟 🌟 🌟
Will Scarlet is good at two things: stealing from the rich and keeping secrets – skills that are in high demand in Robin Hood's band of thieves, who protect the people of Nottingham from the evil sheriff. Scarlet's biggest secret of all is one only Robin and his men know…that she is posing as a thief; that the slip of a boy who is fast with sharp knives is really a girl.
The terrible events in her past that led Scarlet to hide her real identity are in danger of being exposed when the thief taker Lord Gisbourne arrives in town to rid Nottingham of the Hood and his men once and for all. As Gisbourne closes in and puts innocent lives at risk, Scarlet must decide how much the people of Nottingham mean to her, especially John Little, a flirtatious fellow outlaw, and Robin, whose quick smiles have the rare power to unsettle her. There is real honor among these thieves and so much more – making this a fight worth dying for.
I'm not really sure how I stumbled upon this, but I'm so glad I did!
Scarlet follows the story of Will Scarlet from the legend of Robin Hood. Except here, he's a actually a girl in disguise. She's a part of Robin's band of Merry Men and is keeping her identity a secret from everyone except them.
I thought the character of Robin Hood was written fantastically. He had this air of mystery around him, but when we saw glimpses of him, we saw his loyalty and protectiveness for his crew. The banter and camaraderie between all of the Merry Men was one of my favorite things about this.
"I know what it's like when you can't get no one to listen to you. When what you say don't matter. I half think every girl knows what it's like to be silenced."
Scarlet is an amazing  heroine. She was a fierce thief, but also let herself be vulnerable at times. The romance between her and Robin was perfect. It's a slow-burn, so you'll have time to really see why they're good for each other. They both have their demons, but are patient with each other which I loved. Their is a love triangle in this, but it really didn't bother me as love triangles never really do.
"I'll keep your heart, Scar," he whispered. "If you keep mine."
The world building and writing style was fantastic. The descriptions of Nottingham and Sherwood made everything feel so real. The plot kept me on my toes. While I guessed a few things, this book still managed to surprise me, which is great. I also really liked Scarlet's unique dialect, it took some getting used to, but I managed pretty quickly.
The ending will make you want to immediately grab the second book. If you're a fan of fantasy or retellings, you should check this one out.