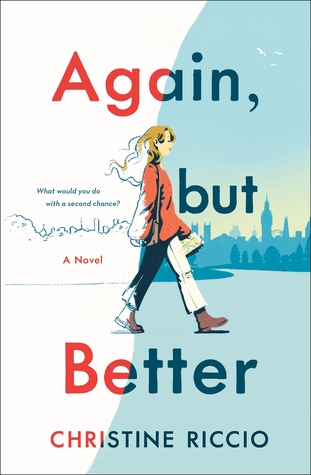 Again, but Better by Christine Riccio
Release Date: May 7, 2019
Genres: YA contemporary
Rating: 🌟
Shane has been doing college all wrong. Pre-med, stellar grades, and happy parents…sounds ideal—but Shane's made zero friends, goes home every weekend, and romance…what's that?
Her life has been dorm, dining hall, class, repeat. Time's a ticking, and she needs a change—there's nothing like moving to a new country to really mix things up. Shane signs up for a semester abroad in London. She's going to right all her college mistakes: make friends, pursue boys, and find adventure!
Easier said than done. She is soon faced with the complicated realities of living outside her bubble, and when self-doubt sneaks in, her new life starts to fall apart.
Shane comes to find that, with the right amount of courage and determination one can conquer anything. Throw in some fate and a touch of magic—the possibilities are endless.
I adore contemporary books. Truly I do. When I saw this was about a girl who does college "all wrong" and wants to study abroad to reinvent herself, I was in!
My main issue with this was the writing. It felt very choppy and awkward. I thought it could have been tightened up a lot. This story also suffered a lot when it came to showing vs. telling. This book takes place in two years: 2011 and 2017. The 2011 media references were brutal. The author made sure you'd never forget that you were reading a story that takes place in 2011.
There's a genre twist halfway through the novel. Which wouldn't have been bad, if I'd known it was coming. I thought the title was referencing Shane's second chance at college while abroad. Instead we get some "magical realism" thrown in halfway through and we just have to go with it. It was jarring.
The romance was also pretty mediocre. I'm a huge romance fan, and I'll be honest, it doesn't take a lot for me to root for a couple as long as I see some connection. However, when it came to Shane and Pilot, I wasn't 100% convinced of their relationship. There was a point where Shane was convincing herself she was better off without Pilot, and I agreed.
I also don't think these characters are particularly likable. They aren't unlikable (because that would be great!) they are just very… bland, I guess. Shane's main personality trait is "quirky". She's very socially awkward XD and clumsy. And Pilot, well, he's a straight up cheating douche bag. I should have known by just looking at his name.
While I give an author props for adding diversity into there book, it was very forced here. Like she was doing it to meet a quota. Every diverse character could have been white and nothing would have changed. Also, while I don't subscribe to the author's YouTube channel, I have seen a few of her videos. And yeah, Shane is very much Christine. They are both the exact same person, they even look the same. Which isn't necessarily horrible, it was just kind of odd and very wish fulfillment-y.
Overall, I wasn't a fan of this one.