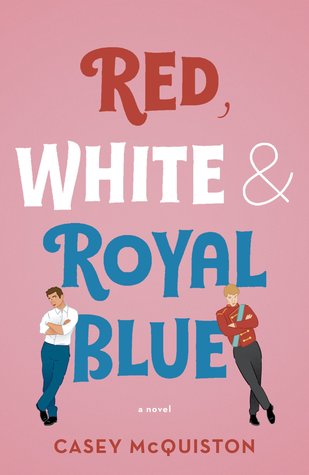 Red, White & Royal Blue by Casey McQuiston
Release Date: May 14, 2019
Genres: M/M romance
Rating: 🌟 🌟 🌟 🌟 🌟
First Son Alex Claremont-Diaz is the closest thing to a prince this side of the Atlantic. With his intrepid sister and the Veep's genius granddaughter, they're the White House Trio, a beautiful millennial marketing strategy for his mother, President Ellen Claremont. International socialite duties do have downsides—namely, when photos of a confrontation with his longtime nemesis Prince Henry at a royal wedding leak to the tabloids and threaten American/British relations.
The plan for damage control: staging a fake friendship between the First Son and the Prince. Alex is busy enough handling his mother's bloodthirsty opponents and his own political ambitions without an uptight royal slowing him down. But beneath Henry's Prince Charming veneer, there's a soft-hearted eccentric with a dry sense of humor and more than one ghost haunting him.
As President Claremont kicks off her reelection bid, Alex finds himself hurtling into a secret relationship with Henry that could derail the campaign and upend two nations. And Henry throws everything into question for Alex, an impulsive, charming guy who thought he knew everything: What is worth the sacrifice? How do you do all the good you can do? And, most importantly, how will history remember you?
"But the truth is, also, simply this: love is indomitable."
This is the future liberals want.
This book lives up to they hype, okay? This is everything you want in a romance and more.
Great main characters
Amazing family dynamics
Enemies to lovers trope???
THE BANTER!!
When I say I loved this book, I mean I really loved it. I had to put this down every few pages because my face hurt from smiling so much. This just became my favorite book of the year. And you know what the best part is? It was completely unexpected. I came in thinking I'd get my cute romance (which I did) but I never expected to completely fall in love with this cast of characters.
This story is told through Alex's POV, the Mexican-American son of the first female president of the United States. For the past few years he's had this ongoing feud with the Prince of Wales, Henry. When a confrontation erupts between the two of them, both their families decide to stage a friendship between the two of them to show both countries can get along.
Alex was such a complex character, he was narcissistic and infuriating at times, but you couldn't help but find him charming and lovable anyway. His "sexual awakening" was super relatable to me. I want to be his best friend forever. Henry was a very sympathetic character. Being a part of the royal family is not easy for him, and being gay doesn't help things. He was just trying to survive his family's crushing expectations and the responsibility. If you don't like Henry then there is something wrong with you, and that's that.
All of our supporting characters were a fucking delight. We have the White House Trio, which includes, Alex, his sister June, and their friend Nora. They trio had one of the best friendship I've ever read. Pez, Henry's best friend, brought some humor into the story, though I would have liked to see a little bit more of him. Then we have Alex's parents. They are the parents queer kids deserve, okay? They weren't perfect, and I loved that the author made sure to show their flaws, but they loved this children and supported them throughout everything. This book will show you the ultimate family / friendship goals.
"Whatever, fine. Henry is annoyingly attractive. That's always been a thing, objectively. It's fine."
The romance! The transition between nemesis, to fake friends, to kind of friends, to then lovers was iconic. Their relationship developed so naturally and it felt so authentic. I'm calling it now, they are the best couple to grace romance novels this year. The banter between the both of them? Perfection.
This story will bring out a lot of emotions in you. The romance will make you giddy. The banter between our diverse cast will make you laugh. Some parts will probably make you angry. And I can admit to tearing up about 75% into the story. Considering the synopsis of the book, politics are definitely a focus here. This book dives into how institutionalized homophobia is in this world, you'll get a glimpse on how difficult it is for Alex's mom to be the first female president, and so much more.
"He's absolutely sure that guys who kissed the Prince of England and liked it don't get elected to represent Texas."
The fact that this is a debut novel blows my mind. This book is worth your time!
P.S. President Claremont is the president we deserve.