What are you currently reading?

First Drop of Crimson (Night Huntress World #1) by Jeaniene Frost
The night is not safe for mortals.
Denise MacGregor knows all too well what lurks in the shadows – her best friend is half-vampire Cat Crawfield – and she has already lost more than the average human could bear. But her family's dark past is wrapped in secrets and shrouded in darkness – and a demon shapeshifter has marked Denise as prey. Now her survival depends on an immortal who craves a taste of her.
He is Spade, a powerful, mysterious vampire who has walked the earth for centuries and is now duty-bound to protect this endangered, alluring human – even if it means destroying his own kind. Denise may arouse his deepest hungers, but Spade knows he must fight his urge to have her as they face the demon nightmare together…
Because once the first drop of crimson falls, they will both be lost.
What have you recently finished reading?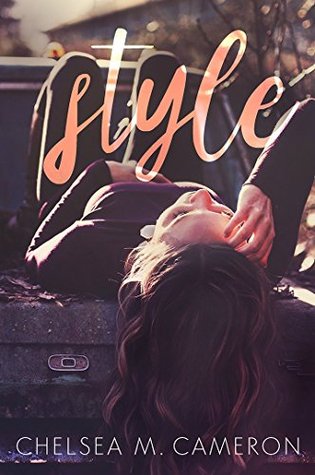 Style by Chelsea M. Cameron
Kyle Blake likes plans. So far, they're pretty simple: Finish her senior year of high school, head off to a good college, find a cute boyfriend, graduate, get a good job, get married, the whole heterosexual shebang. Nothing is going to stand in the way of that plan. Not even Stella Lewis.
Stella Lewis also has a plan: Finish her senior year as cheer captain, go to college, finally let herself flirt with (and maybe even date) a girl for the first time and go from there.
Fate has other plans for Kyle and Stella when they're paired up in their AP English class and something between them ignites. It's confusing and overwhelming and neither of them know what to do about it. One thing they do know is that their connection can't be ignored. The timing just isn't right.
But is there ever a good time for falling in love?
What do you think you'll read next?
The Enchanter's Flame (The Ellwood Chronicles #1 by Michele Notaro
Strange things are happening all around Brinnswick. Things that remind me of a piece of my past I'd rather forget. Girls are being killed, drained of blood, and left with strange markings on their bodies. When I finally connect the cases together, a specialist is called in—though, what he's a specialist of is beyond me.
When the chief assigns him as my new partner for the case, I can't help but groan on the inside. Why of all people would I be assigned to Ailin Ellwood? The man is a disaster waiting to happen and a jerk to boot. A sexy jerk, but a jerk nonetheless.
What will Sebastian think when he discovers Ailin's specialty? Will he make a run for it or will he stick around and discover a world of magic hidden beneath the city's surface?