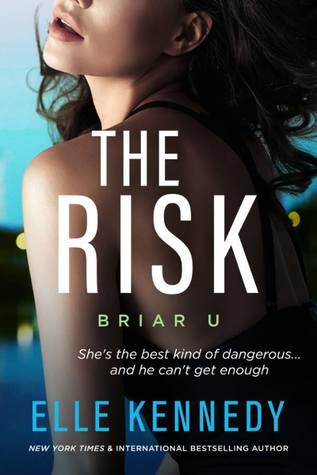 The Risk by Elle Kennedy
Series: Briar U #2
Release Date: February 18, 2019
Genres: New adult
Rating: 🌟 🌟 🌟 🌟
Everyone says I'm a bad girl. They're only partly right—I don't let fear rule me, and I certainly don't care what people think. But I draw the line at sleeping with the enemy. As the daughter of Briar's head hockey coach, I'd be vilified if I hooked up with a player from a rival team.
And that's who Jake Connelly is. Harvard's star forward is arrogant, annoying, and too attractive for his own good. But fate is cruel—I require his help to secure a much-coveted internship, and the sexy jerk isn't making it easy for me.
I need Connelly to be my fake boyfriend.
For every fake date…he wants a real one.
Which means this bad girl is in big trouble. Nothing good can come from sneaking around with Jake Connelly. My father would kill me, my friends will revolt, and my post-college career is on the line. But while it's getting harder and harder to resist Jake's oozing sex appeal and cocky grin, I refuse to fall for him.
That's the one risk I'm not willing to take.

This second installment of Briar U follows Brenna and Jake. Brenna is a beautiful, confident, feisty, and independent woman. She knows what she wants out of life, knows her worth, and doesn't let anyone treat her less than what she is. I adored her. Jake lives and breathes hockey. He's charming, intelligent, and less than a year away from starting his NHL career.
When Brenna interviews for an internship, she sees that the interview isn't going great, so she lies and says she's dating Jake to impress her sexist potential boss. This book is a combination of so many amazing tropes – fake dating, enemies-to-lovers, and forbidden romances. They were all done so well, Kennedy really shines in this book.
The chemistry between Brenna and Jake is sizzling and the banter is A+ since the first page. The dialogue between them made me laugh out loud. I thought they were so cute. Their relationship progressed naturally I though. From rivals, to friends, and then to lovers, I loved seeing the process.
There are also so many supporting characters here, and the banter between all of them was top notch. I will say, since I'm not great with names, I found myself getting a bit confused as to who is who. You had Jake's teammate and the Briar U players and their girlfriends, and since everyone alternated between first and last names, it was hard to keep track of who is who.
I also loved that this story had the perfect balance of fun and angst. While the characters managed to make me smile, there were also some heartbreaking moments which I appreciated it.
I definitely recommend this book!