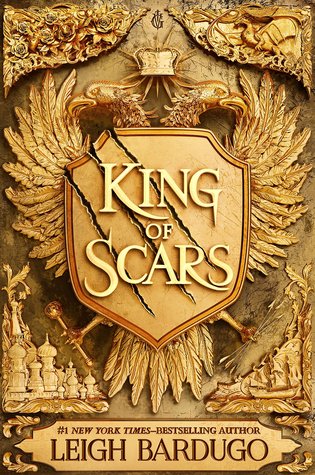 Hi everyone! Today I'm doing something I haven't done here before. I'm going to tell you all about a signing event I attended this week!
So as some of you may know, I adore Leigh Bardugo. Her Six of Crows duology is one of may all time favorite fantasy series.
When I saw that she was coming to Miami to celebrate her very anticipated book, I was ecstatic. I remember when she announced her tour, and saw Miami as a stop, I was shocked! Not that many author come all the way down to Florida, let alone South Florida Miami. As soon as the tickets went on sale I bought my own.
The signing took place on Thursday, 1/31. The doors opened at 6:30 pm, and it was packed. As soon as you entered you got a copy of this beautiful book
At the entrance, after you got your copy of King of Scars there was a merch table where you could buy copies of Leigh's other books if you wanted. They also had totes and t-shirts you could but. Here is a picture of the shirt I bought, it was a sign from the gods that I should have it as it was the last shirt they had LOL. (Though it is a about a size or two too big but whatever)
After that, there were these fun little stations you could go to to pass the hour as Leigh wouldn't start the Q&A until 7:30 pm.
Station #1: What is your Grisha order?
The first station included the quiz to find out what your Grisha order is. You took a quick little quiz to see what you were and then you picked out the pin that corresponded to what you got. Your girl got Etherealki, which means I should have picked up the red pin. Everyone was super chill and let you get whichever (or all of the) pins you wanted / liked.
Station #2: Take your passport photo!
The second station was actually the first station I attended. Which thank god I did! The line to that station got ridiculously long about 20 minutes later. At this station, you stood in line and when you got to the table they were giving out these golden paper crowns. Next, there was a drop down where you an event helper took your "passport picture" with a Polaroid. (Wearing the crown in the photo was up to you).
Station #3: Complete your passport.
After they gave you your Polaroid picture you'd head over to Station #3 to finish your passport. Here you'd glue your picture to a GrishaVerse passport and they'd give you this cool tour stamp on it.
At 7:30 pm Leigh started a Q&A which lasted about 45 minutes.
This slideshow requires JavaScript.
She answered a bunch of questions: alternating from the audience and the cauldron on her left (questions from her fans that are too shy to ask in front of an audience). There were a lot of questions on her inspiration for her books / characters, questions about the upcoming Netflix show, and some other fun and random questions. A question that got a big laugh was "Why Matthias???!??!?!"
Around 8:15 or 8:20 pm the signing started! Leigh was going to sign and personalize King of Scars, and then sign two other items. I brought my Six of Crows and Crooked Kingdom copies for her to sign.
By 9:30 pm I was on my way out. At the exit door you got this very nicely decorated cookie with a hand written note from Leigh.
And that concluded the King of Scars tour in Miami!
I hoped everyone liked this post. This was the second signing I've ever attended, and it was such a fun night. I got to meet so many people, and talking to Leigh was amazing!
Here are a few picture of the church where the event took place.
This slideshow requires JavaScript.
The church was very cool, very medieval and kind of Gothic. I wish I had taken more photos.