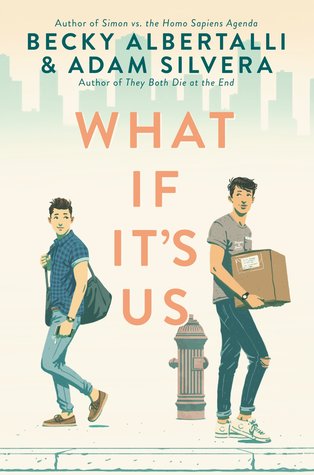 What If It's Us by Becky Albertalli & Adam Silvera
Release Date: October 9, 2018
Genres: YA contemporary
Rating: 🌟 🌟 🌟 🌟
Arthur is only in New York for the summer, but if Broadway has taught him anything, it's that the universe can deliver a showstopping romance when you least expect it.
Ben thinks the universe needs to mind its business. If the universe had his back, he wouldn't be on his way to the post office carrying a box of his ex-boyfriend's things.
But when Arthur and Ben meet-cute at the post office, what exactly does the universe have in store for them?
Maybe nothing. After all, they get separated.
Maybe everything. After all, they get reunited.
But what if they can't quite nail a first date… or a second first date… or a third?
What if Arthur tries too hard to make it work… and Ben doesn't try hard enough?
What if life really isn't like a Broadway play?
But what if it is?
I adored Arthur and Ben. Their meeting is the definition of a meet-cute. Arthur meets Ben while he's trying to ship his boyfriends belongings, and Arthur is convinced it's the universe intervening. They part without exchanging phone numbers though, but when they get thrown together again, maybe it's fate?
I guess the one thing I should warn you about is that this is a very character driven novel. Me, personally? I don't mind this at all! But I know a lot of readers out there would prefer this book have some plot to it. I will say, the "climatic" scene towards the end was a bit underwhelming, I just didn't see the point in having it in the story.
Arthur and Ben were both flawed characters. You could see them growing and learning throughout the story, which I loved to see! The cast is also very diverse, Arthur is Jewish and has ADHD, Ben is Puerto Rican. Arthur is more naive and a big believer of fate, romance, and the universe. Ben is a bit more jaded after a nasty break-up, but I was able to relate to him a lot more than Arthur.
The side characters bring in a lot of laughs, especially Dylan, Ben's best friend. He's a mess but I loved his friendship with Ben and I loved that we got to see his romance from Ben's POV. The family dynamics were also A+. Arthur and his father have the cutest relationship ever. Ben's parents also had some great scenes.
There was a bit of predictability to this as well, but I loved Arthur and Ben so much I didn't really care. I will say, the ending very much took me by surprise. I don't know if I love it or hate it. It wasn't the ending I was personally hoping for, but it was very realistic and I appreciate it for what it is.
Overall, I really liked this. I definitely wouldn't say no to another collab between these two authors!