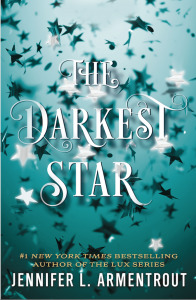 The Darkest Star by Jennifer L. Armentrout
Series: Origin #1
Release Date: October 30, 2018
Genres: YA sci-fi
Rating: 🌟 🌟 🌟 🌟 🌟
When seventeen-year-old Evie Dasher is caught up in a raid at a notorious club known as one of the few places where humans and the surviving Luxen can mingle freely, she meets Luc, an unnaturally beautiful guy she initially assumes is a Luxen…but he is in fact something much more powerful. Her growing attraction for Luc will lead her deeper and deeper into a world she'd only heard about, a world where everything she thought she knew will be turned on its head…
#1 New York Times, USA Today, and internationally bestselling author Jennifer L. Armentrout returns to the universe of the Lux in this brand new series, featuring beloved characters both new and old.

I looooooved Luc in the Lux series. We didn't know any thing about him, but I knew I was fascinated by him.
I'll start with my one peeve about this book… there wasn't enough Luc! I wish this had been written in dual POV so we can see inside his head, but alas, it wasn't meant to be. I really liked Evie though. She was smart, very easy to like and root for, and she made sure to have an open mind throughout the book. I loved her passion for photography. Luc is really easy going most of the times, but do not piss him off because you will regret it. I loved his funny/corny t-shirts he wore throughout, it was a great way to show off more of his personality.
ALSO THERE IS AN F/F COUPLE SJKSHKSJ. Evie's best friend is bisexual and the book starts out with Heidi dragging Evie to a club so she can meet her crush (which is actually how she meets Luc too). I swear to god if anything happens to Heidi and Emery Imma be pissed.
Lux fans series definitely need to pick this up. This book has everything you loved in the Lux series (except Damon, but he does make a cameo!). This picks up after Opposition and it was awesome to see what happened to the world after the Luxen invaded.
This was a character driven novel (which was fine!) but I do hope we get some more action and plot in the next book. I'm so glad I picked this up as it was completely entertaining and I can't wait for more.