What are you currently reading?

What If It's Us by Becky Albertalli & Adam Silvera
Arthur is only in New York for the summer, but if Broadway has taught him anything, it's that the universe can deliver a showstopping romance when you least expect it.
Ben thinks the universe needs to mind its business. If the universe had his back, he wouldn't be on his way to the post office carrying a box of his ex-boyfriend's things.
But when Arthur and Ben meet-cute at the post office, what exactly does the universe have in store for them?
Maybe nothing. After all, they get separated.
Maybe everything. After all, they get reunited.
But what if they can't quite nail a first date . . . or a second first date . . . or a third?
What if Arthur tries too hard to make it work . . . and Ben doesn't try hard enough?
What if life really isn't like a Broadway play?
But what if it is?
What have you recently finished reading?
The Bones Beneath My Skin by T.J. Klune
In the spring of 1995, Nate Cartwright has lost everything: his parents are dead, his older brother wants nothing to do with him, and he's been fired from his job as a journalist in Washington DC. With nothing left to lose, he returns to his family's summer cabin outside the small mountain town of Roseland, Oregon to try and find some sense of direction.
The cabin should be empty.
It's not.
Inside is a man named Alex. And with him is an extraordinary little girl who calls herself Artemis Darth Vader.
Artemis, who isn't exactly as she appears.
Soon it becomes clear that Nate must make a choice: let himself drown in the memories of his past, or fight for a future he never thought possible.
Because the girl is special. And forces are descending upon them who want nothing more than to control her.
What do you think you'll read next?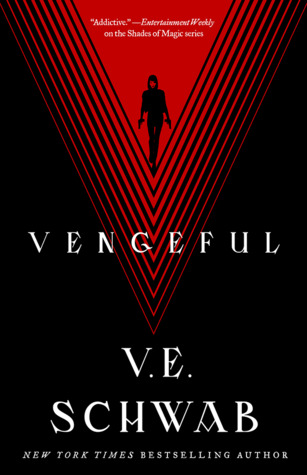 Vengeful (The Villains #2) by V.E. Schwab
Sydney once had Serena—beloved sister, betrayed enemy, powerful ally. But now she is alone, except for her thrice-dead dog, Dol, and then there's Victor, who thinks Sydney doesn't know about his most recent act of vengeance.
Victor himself is under the radar these days—being buried and re-animated can strike concern even if one has superhuman powers. But despite his own worries, his anger remains. And Eli Ever still has yet to pay for the evil he has done.