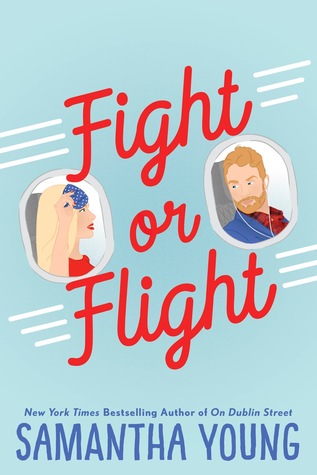 As Dust Dances by Samantha Young
Release Date: October 9, 2018
Genres: Romance
Rating: 🌟 🌟 🌟
The universe is conspiring against Ava Breevort. As if flying back to Phoenix to bury a childhood friend wasn't hell enough, a cloud of volcanic ash traveling from overseas delayed her flight back home to Boston. Her last ditch attempt to salvage the trip was thwarted by an arrogant Scotsman, Caleb Scott, who steals a first class seat out from under her. Then over the course of their journey home, their antagonism somehow lands them in bed for the steamiest layover Ava's ever had. And that's all it was–until Caleb shows up on her doorstep.
When pure chance pulls Ava back into Caleb's orbit, he proposes they enjoy their physical connection while he's stranded in Boston. Ava agrees, knowing her heart's in no danger since a) she barely likes Caleb and b) his existence in her life is temporary. Not long thereafter Ava realizes she's made a terrible error because as it turns out Caleb Scott isn't quite so unlikeable after all. When his stay in Boston becomes permanent, Ava must decide whether to fight her feelings for him or give into them. But even if she does decide to risk her heart on Caleb, there is no guarantee her stubborn Scot will want to risk his heart on her….

Hmm, I'm a bit conflicted. There were parts I truly loved, and others that left a lot to be desired.
First, let's start with the trope. Enemies-to-lovers is always a trope I struggle with. And this is definitely enemies-to-lovers. It all starts at the airport where Caleb cuts Ava in line and gets the last first-class ticket. When another ticket becomes available Ava takes it and finds herself sitting next to him on their flight. They hate each other right off the bat. And a lot of the time it's a valid hate. But I guess I could never wrap my head around why they started sleeping together when they disliked each other so much. Eventually I got over this though. Their hate formed into a friendship pretty naturally in my opinion. Which eventually turned into love.
Caleb was very weird character in my opinion. He was awful when the story started, and I found myself wondering if he was ever going to redeem himself or if I'd have to abandon the story. There was a lot of back and forth with him. I think having his POV would have been really useful in the story. We had no idea what was going in his head and it made it hard to connect with him most of the time. When he did let his guard down, he was a great character, one I could root for. But since he constantly went from one extreme to another, my love for him did the same.
I adored Ava, though. She's independent, fierce, and loyal. She experiences a lot of growth throughout the story. At the beginning she starts out terrified of commitment and does a lot of soul searching during the book. Everyone in her life sees her as nothing but a pretty face because of the way she decides to present herself. She knows her worth though, which I found refreshing. She calls out anyone who treats her in a sexist or demeaning way. She's not perfect of course, there were times she could be very vapid, but I loved her, flaws and all.
Her friendship with Harper was one of my favorite things about the story. She's a more unusual character, but I really liked her in the scenes she was in. Ava and Harper have a great relationship, built on love, support, respect. I'm a sucker for great friendships. I also really liked Jamie, Caleb's younger brother. He seemed different from Caleb, gentler and more understanding than his older brother. I'd be excited if he got his own story.
Overall, this was a solid romance. I know fans of the whole "alpha hero" will love this.
**ARC provided by Netgalley in exchange for an honest review**