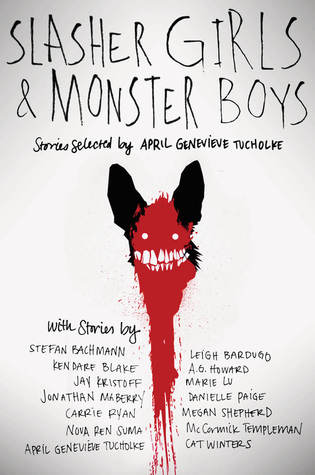 Slasher Girls & Monster Boys by Various Authors
Release Date: August 18, 2015
Genres: Paranormal
Rating: 🌟 🌟 🌟 🌟
A host of the smartest young adult authors come together in this collection of scary stories and psychological thrillers curated by Between the Devil and the Deep Blue Sea's April Genevieve Tucholke.
Each story draws from a classic tale or two—sometimes of the horror genre, sometimes not—to inspire something new and fresh and terrifying. There are no superficial scares here; these are stories that will make you think even as they keep you on the edge of your seat. From bloody horror to supernatural creatures to unsettling, all-too-possible realism, this collection has something for any reader looking for a thrill.
Fans of TV's The Walking Dead, True Blood, and American Horror Story will tear through tales by these talented authors:
Stefan Bachmann
Leigh Bardugo
Kendare Blake
A. G. Howard
Jay Kristoff
Marie Lu
Jonathan Maberry
Danielle Paige
Carrie Ryan
Megan Shepherd
Nova Ren Suma
McCormick Templeman
April Genevieve Tucholke
Cat Winters
It's that time of year y'all!

In honor of it being the first week of October (a.k.a. the greatest month of the year). I decided to finally pick up Slasher Girls and Monster Boys, a collection of short stories dealing with all things scary and creepy. I don't read many anthologies, but this one was fantastic! I enjoyed almost every single story and definitely recommend it.
The Birds of Azalea Street by Nova Ren Suma: 4 stars
"We suspected. We'd told tales. We'd heightened our stories into gross and grandiose lies. And even with all of that, we never really thought we were in danger."
This was a great way to start to the collection, it was filled with creepy birds and creepy men. This is the first thing I've ever read from Suma but her eerie writing style makes me want to go pick up one of her books.
In the Forest Dark and Deep by Carrie Ryan: 4.5 stars
"This was worse than before. This was more. This was a massacre."
I really liked this one! It's got an Alice in Wonderland theme to it, and the tone of the writing, so calm and detached, made the story very creepy and disturbing.
Emmeline by Cat Winters: 4 stars
"Boys were curious creatures by nature."
Amazing story-telling! This one wasn't very scary but it was pretty sad, and takes place in Northern France during World War One.
Verse Chorus Verse by Leigh Bardugo: 3.5 stars
"They say you're crazy, I'm crazy too."
This one was pretty creepy, also kind of confusing. It's about a teen superstar who was sent to rehab after a driving accident and finds that things aren't what they seem at Wellways
Hide and Seek by Megan Shepherd: 4.5 stars
"Don't expect death to play by the rules. Death is not a person. Death cannot be reasoned with. In death, as in life, nothing is fair."
When Annie dies, she challenges death to a hide-and-seek game, if she can beat death, her life will be hers again. In a 24-hour hide and seek marathon, Annie has to avoid death and all the traps he sets up for her. I thought the story was clever, fast-paced, and I breezed through this pretty quickly.
The Dark, Scary Parts and All by Danielle Paige: 1.5 stars
"It wasn't just that no one ever touched me. It was that he was the one who just had. My insides strained for more."

*sigh*
Supernatural love interest, high school mean girls, and a Mary Sue. Why?!
The Flicker, The Fingers, The Beat, The Sigh by April Genevieve Tucholke: 3 stars
"She was looking at me when the car hit her…"
This one was okay. It's based on two well-known horror stories: I Know What You Did Last Summer and Carrie. It wasn't very scary and nowhere near as good as the original stories.
Fat Girl With a Knife by Jonathan Maberry: 3 stars
"That's when Dahlia knew that something was a lot more wrong than boyfriend problems."
This one was just okay as well. It was entertaining but not creepy or scary at all. It's a zombie story that introduces Dahlia, the schools "fat girl", she was definitely my favorite part of the whole story.
Sleepless by Jay Kristoff: 4.5 stars
"I want to sleep, Wolfie." She sighs the words, and I see the red veins scrawled across those big gray eyes. "Just a single night without one of them finding me. Pleading. Waking me in the dark."
This is one of my favorite ones! It's full of twists and turns, most of them I didn't see coming. I was sufficiently creeped out.
M by Stefan Bachman: 3.5 stars
"M is for Misha, who stifled his screams . . ."
Children terrify me (I'm not kidding). You know what's even scarier? Children singing creepy rhymes. Misha is our blind narrator and this story is more mystery than horror. But the whole time I was picturing myself sitting in a dark room and children singing creepy rhymes all around me.
The Girl Without a Face by Marie Lu: 5 stars
"Go away, he whispered into the darkness. Tears ran down his cheeks. I didn't mean it. I'm sorry."
Omg.


This one was amazing! Definitely one of the scariest ones and psychologically creepy. This was one intense and also sad story.
A Girl Who Dreamed of Snow by McCormick Templeman: 2.5 stars
"And now there were whispers of something coming, something catastrophic sweeping ever closer."
This story wasn't as good as some of the others. It definitely had a unique premise but I found it to be a bit boring.
Stitches by A.G. Howard: 4 stars
"The birds drowned out his screams."
This was so fucked up. Definitely not one for the faint of heart! It wasn't very scary, but it was gory and pretty graphic.
On the I-5 by Kendare Blake: 3.5 stars
"She wasn't stupid. She was just sad. And young."
This one was kind of weird, but I really liked it. It was creepy, kept me at the edge of my seat, and had a pretty good ending (would have been better if it wasn't so rushed).