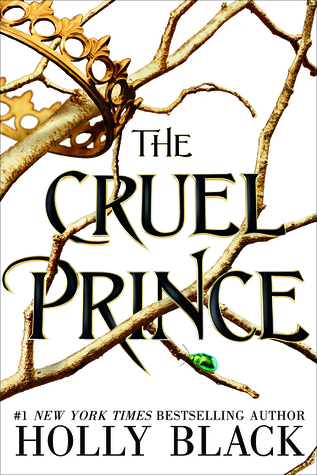 The Cruel Prince by Holly Black
Series: The Folk of the Air #1
Release Date: January 2, 2017
Genres: YA fantasy
Rating: 🌟 🌟 🌟 🌟 🌟
Of course I want to be like them. They're beautiful as blades forged in some divine fire. They will live forever.
And Cardan is even more beautiful than the rest. I hate him more than all the others. I hate him so much that sometimes when I look at him, I can hardly breathe.
Jude was seven when her parents were murdered and she and her two sisters were stolen away to live in the treacherous High Court of Faerie. Ten years later, Jude wants nothing more than to belong there, despite her mortality. But many of the fey despise humans. Especially Prince Cardan, the youngest and wickedest son of the High King.
To win a place at the Court, she must defy him–and face the consequences.
As Jude becomes more deeply embroiled in palace intrigues and deceptions, she discovers her own capacity for trickery and bloodshed. But as betrayal threatens to drown the Courts of Faerie in violence, Jude will need to risk her life in a dangerous alliance to save her sisters, and Faerie itself.
I have lied and I have betrayed and I have triumphed. If only there was someone to congratulate me.
No one writes faeries like Holly Black. No one. 
This story has taken the best parts of a fantasy novels and created an unforgettable book. Court politics, enemies-to-lovers, antiheroes, scheming characters, it's all here!
So super quick for anyone who hasn't read this (but why haven't you?!) This book follows Jude, a human. She has two sisters, her twin Taryn, and an older sister named Vivi, who's fae. Whe Vivi's biological father, Madoc, comes to get Vivi back, he murders Jude and Taryn's parents and takes all three sisters to live with him in the fae world.
Jude is the perfect grey character. She's ambitious, clever, jealous, and authentic. She has gone through so much in her short life and still strives and tries. She is terrified of so much, but that doesn't stop her. But she still loves with all her heart and would do anything for them. She is incredibly flawed, but it's impossible not to love her.
What could I become if I stopped worrying about death, about pain, about anything? If I stopped trying to belong? Instead of being afraid, I could become something to fear.
Then there's Carden. Another morally grey character. Listen, every character is dysfunctional and an asshole, it's why the story is so good. Carden is a prince, and yes, very cruel. I don't even know how to describe him. He is beautifully terrible. He looks out for himself above everyone, I think he's fascinating, and I can't help but love him.
"So I am to sit here and feed you information," Cardan says, leaning against a hickory tree. "And you're to go charm royalty? That seems entirely backward."

I fix him with a look. "I can be charming. I charmed you, didn't I?"
He rolls his eyes.

"Do not expect others to share my depraved tastes."
One of my favorite things about this was the family dynamics. Madoc is one of the best written characters. He had so many sides to him, even though he's obviously a bad guy. His character arc brought so much to the story. Both of Jude's sisters are incredibly complex. Viv is bisexual, full of life, and amazing. Taryn is infuriating. While I don't really like her, I can't help but admit she's a great character at times. These characters are all so different, and when you throw them all into a house it makes for such a entertaining read.
The writing was beautiful. The characters are unapologetic. The ending was spectacular. This is just a stunning book and I recommend it to everyone!z I'm really glad I waited to read this, maybe now the wait won't be so brutal… *sob*