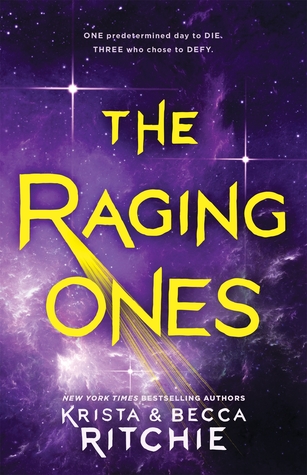 The Raging Ones by Krista & Becca Ritchie
Series: The Raging Ones #1
Release Date: August 14, 2018
Genres: YA sci-fi
Rating: 🌟 🌟
In a freezing world, where everyone knows the day they will die, three teens break all odds.
Franny Bluecastle, a tough city teen, dreams of dying in opulence, to see wealth she's never known. Like the entire world, she believes it's impossible to dodge a deathday.
Until the day she does.
Court Icecastle knows wealth. He also knows pain. Spending five years in Vorkter Prison, a fortress of ice and suffering, he dreams of life beyond the people that haunt him and the world that imprisoned him.
Mykal Kickfall fights for those he loves. The rugged Hinterlander shares a frustrating yet unbreakable connection with Court—which only grows more lawless and chaotic as their senses and emotions connect with Franny.
With the threat of people learning they've dodged their deathdays, they must flee their planet to survive. But to do so, all three will have to hide their shared bond as they vie for a highly sought after spot in the newest mission to space. Against thousands of people far smarter, who'll live longer, and never fear death the way that they do.

This is really awkward… I was not feeling this at all.
It's no secret that I'm a huge fan of Krista & Becca's romance books. Their Aerial Ethereal books, the Addicted books, and the Calloway Sisters series are some of my favorite books ever. I've reread them a million times, and I was so excited for this book!
Krista & Becca have always been upfront about the fact that they struggle the most with plot. Their characters are always great, but sometimes their pacing and plot lines can be a bit slow. This is fine for a romance book, I mean it's the characters that make a romance great, but it doesn't really translate when you're reading a fantasy/sci-fi book. Knowing that I was a bit nervous to get into this. A good fantasy requires a lot of world-building and an exciting plot.
There are so many questions that are left unanswered. Yes, I know there's a second book, but most of these were very basic. The world building was really underdeveloped and then eventually just… stops. Like, they talk about the history a little bit at the beginning, but it just fades after a bit. It was just really messy. The main question I had when I first read the synopsis was "how did the deathday even start?", one of the main characters addresses it but just says it's a very complicated story and she doesn't know enough of their history to tell us. It was just kind of lazy.
We have three POVs in this story. Mykal, Court, and Franny are all trying to figure out why they cheated their deathday and why they're emotionally linked. I liked Mykal and Court enough, like I said Krista & Becca always make their characters three-dimensional. Though I do wish Franny was a bit more developed, it felt like she was always on the outside looking in. I do wish there was some more personality when it came to POVs. Sometimes I'd have to check who was narrating because the POVs sounded similar some of the time. I know this is a dumb point, but their last names are ridiculous. Bluecastle, Icecastle, Kickfall *sighs*
The writing was okay. There was some repetitiveness when it came to how they described certain feelings or people that I could have gone without. It felt very telling versus showing. The beginning of this book had a rough start. I wanted to put it down a few times but kept going because I saw people say it got better, and it does. But it was just so rushed. Everything interesting happens at the end and then the book is over.
I don't think I'll pick up the second book, it's just nothing really worked for me here.