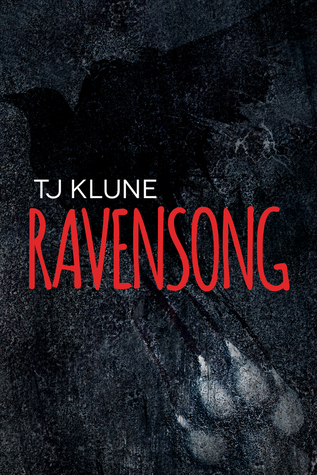 Ravensong by TJ Klune
Series: Green Creek #2
Release Date: July 31, 2018
Genres: Paranormal, Romance
Rating: 🌟 🌟 🌟 🌟 🌟
Gordo Livingstone never forgot the lessons carved into his skin. Hardened by the betrayal of a pack who left him behind, he sought solace in the garage in his tiny mountain town, vowing never again to involve himself in the affairs of wolves.
It should have been enough.
And it was, until the wolves came back, and with them, Mark Bennett. In the end, they faced the beast together as a pack… and won.
Now, a year later, Gordo has found himself once again the witch of the Bennett pack. Green Creek has settled after the death of Richard Collins, and Gordo constantly struggles to ignore Mark and the song that howls between them.
But time is running out. Something is coming. And this time, it's crawling from within.
Some bonds, no matter how strong, were made to be broken.

We must protect Gordo Livingstone at all costs.
Ravensong continues the plot from Wolfsong, and it's a lot more action packed than Wolfsong in my opinion. This keeps you on your toes the entire time, and it's almost impossible to put it down. I won't say anything else as everything is pretty much a spoiler.
This book follows Gordo and Mark, who we met in Wolfsong and even back then we knew their story would be intense. MY HEART ACHES FOR GORDO WHAT THE FUCK. The romance between Mark and Gordo is definitely secondary to the story, but I think that's why I loved it so much.
The fact that both these characters have been separated for years and have a lot of resentment and anger between them brought so much angst to the story. But I loved every page of it. I really felt Gordo's hurt and betrayal through every page and I fell in love with this morally gray character. Mark also had his fair share of anger and bitterness, but it wasn't as prevalent because this story was told strictly through Gordo's POV.
"I hate you."

"I know. Even though your heartbeat says otherwise. I think you believe it. And I'm sorry for that."
The secondary characters were just as amazing as the main ones. The human pack brought the comedic relief throughout the story. Jessie is my new favorite, she's a badass. Rico meets his match in a new character, and we see a lot from Carter and Kelly which made me excited for their books. I am so invested in this pack, human and wolf, I can't wait to read everything that's to come. I'm so excited for Lovesong next month! I need to learn more about Elizabeth.
Family continues to be a huge part of the story and the sense of pack is always present here. I love when a story focuses on family and friendships just as much as a romance, so this really was perfect for me.
I've read most of Klune's books, and this one is up there as one of my favorites.