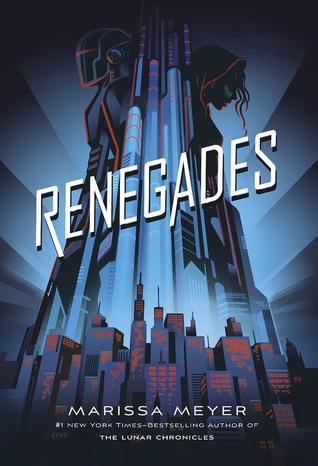 Renegades by Marissa Meyer
Series: Renegades #1
Release Date: November 7, 2017
Genres: YA sci-fi
Rating: 🌟 🌟 🌟 🌟 🌟
Secret Identities. Extraordinary Powers. She wants vengeance. He wants justice.
The Renegades are a syndicate of prodigies — humans with extraordinary abilities — who emerged from the ruins of a crumbled society and established peace and order where chaos reigned. As champions of justice, they remain a symbol of hope and courage to everyone… except the villains they once overthrew.
Nova has a reason to hate the Renegades, and she is on a mission for vengeance. As she gets closer to her target, she meets Adrian, a Renegade boy who believes in justice — and in Nova. But Nova's allegiance is to a villain who has the power to end them both.
One cannot be brave who has no fear.
This was so entertaining. I went into this not knowing anything beyond the synopsis, so I had no idea what I was expecting. I'm going to try and explain the plot, hopefully it doesn't get too convoluted.
This story follows Nova and Adrian. Adrian is a Renegade, who are a group of prodigies (superheroes) that keep the peace and fight villains. Nova is one of these villains. She has her reasons as to why she hates the Renegades and is on a mission to bring the entire organization down.
I love that this book talked about moral issues a lot. There are two sides to one question: is society better off with the Renegades protecting it? Both sides had valid points, and I'm really excited to see more of this in book 2. This wasn't straight up "good vs. evil", just because people were on the same "side" didn't mean they had the same end game in plan.
"There's no rule that says you have to be a prodigy to be a hero," she insisted. "If people wanted to stand up for themselves or protect their loved ones or do what they believe in their hearts is the right thing to do, then they would do it. If they wanted to be heroic, they would find ways to be heroic, even without supernatural powers."
Anyone who's looking for diversity in their sci-fi / fantasy books, look no further! Nova is Filipino-Italian. Adrian is described as having brown skin. Adrian also has two dads! (And these two men are happily in love and run the Renegades group, they are pretty badass.) And a side character has a disability, he walks with a cane, and his superpower has nothing to do with his disability.
Nova is so fierce and confident (I mean her alias is Nightmare), I loved reading about the Renegades and the state of her city from her POV. Adrian is such a soft hero. No alpha males here! And their romance is the perfect example of slow burn. Considering Nova hates the Renegades, the way she starts seeing Adrian in a different light never felt forced.
I can admit that the pacing of the book could have used some work. This is about 550 pages and a good 100 pages could have probably been cut. It managed to keep my attention the entire time, but I can see why it would be an issue for other readers.
I definitely recommend this! The book ended at the best part (damn cliffhanger) and I can't wait to see how this story continues. November please get here faster!