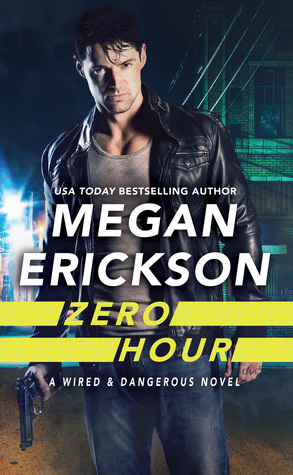 Zero Hour by Megan Erickson
Series: Wired & Dangerous #1
Release Date: January 30, 2018
Genres: Romantic suspense
Rating: 🌟 🌟 🌟 🌟
Hacker extraordinaire Roarke Brennan lives each hour – each breath – to avenge his brother's murder. His first move: put together a team of the best coders he knows. They're all brilliant, specialized, and every one an epic pain in his ass. Only now Wren Lee wants in too, threatening to upset their delicate balance. The girl Roarke never allowed himself to want is all grown up with sexy confidence and a dark past … and she's the wild card he can't control.
Roarke might still think she's a kid, but Wren's been to hell and back. Nothing and nobody can stop her – especially the tatted-up, cocky-as-all-hell hacker. But when years of longing and chemistry collide, Wren and Roarke discover that revenge may be a dish best served blazing hot.
 I'm trash when it comes to familial and friendship bonds, and this book was overflowing with that. This book follows a badass group of hackers, specifically Roarke and Wren. Roarke is on a mission to avenge his brothers death and he puts together this band of misfits to get it done. He's thrown by surprise when his best friend's sister joins the team for her own reasons.
I adored both Wren and Roarke. Roarke was protective and a bit broody, and most importantly, he was never afraid to admit when he was in the wrong. Wren was a goddess in her own way. She never took Roarke's crap, and was never afraid to stand up for herself. Zero Hour was filled with wonderful side characters, who will be getting their own books eventually.
This was a phenomenal start to what I'm sure will be an action-packed series, and I can't wait to see all of these hackers get their story!