What are you currently reading?

The Cruel Prince (The Folk of the Air #1) by Holly Black
Of course I want to be like them. They're beautiful as blades forged in some divine fire. They will live forever.
And Cardan is even more beautiful than the rest. I hate him more than all the others. I hate him so much that sometimes when I look at him, I can hardly breathe.
Jude was seven years old when her parents were murdered and she and her two sisters were stolen away to live in the treacherous High Court of Faerie. Ten years later, Jude wants nothing more than to belong there, despite her mortality. But many of the fey despise humans. Especially Prince Cardan, the youngest and wickedest son of the High King.
To win a place at the Court, she must defy him–and face the consequences.
In doing so, she becomes embroiled in palace intrigues and deceptions, discovering her own capacity for bloodshed. But as civil war threatens to drown the Courts of Faerie in violence, Jude will need to risk her life in a dangerous alliance to save her sisters, and Faerie itself.
What have you recently finished reading?
Down by Contact (The Barons #2) by Santino Hassell
Simeon Boudreaux, the New York Barons' golden-armed quarterback, is blessed with irresistible New Orleans charm and a face to melt your mama's heart. He's universally adored by fans and the media. Coming out as gay in solidarity with his teammate hasn't harmed his reputation in the least—except for some social media taunting from rival linebacker Adrián Bravo.
Though they were once teammates, Adrián views Simeon as a traitor and the number-one name on the New Jersey Predators' shit list. When animosity between the two NFL players reaches a boiling point on the field, culminating in a dirty fist fight, they're both benched for six games and sentenced to joint community service teaching sullen, Brooklyn teens how to play ball.
At first, they can barely stand to be in the same room, but running the camp forces them to shape up. With no choice but to work together, Simeon realizes Adrián is more than his alpha-jerk persona, and Adrián begins to question why he's always had such strong feelings for the gorgeous QB…
What do you think you'll read next?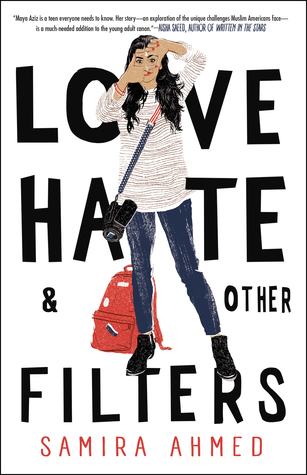 Love, Hate & Other Filters by Samira Ahmed
American-born seventeen-year-old Maya Aziz is torn between worlds. There's the proper one her parents expect for their good Indian daughter: attending a college close to their suburban Chicago home, and being paired off with an older Muslim boy her mom deems "suitable." And then there is the world of her dreams: going to film school and living in New York City—and maybe (just maybe) pursuing a boy she's known from afar since grade school, a boy who's finally falling into her orbit at school.
There's also the real world, beyond Maya's control. In the aftermath of a horrific crime perpetrated hundreds of miles away, her life is turned upside down. The community she's known since birth becomes unrecognizable; neighbors and classmates alike are consumed with fear, bigotry, and hatred. Ultimately, Maya must find the strength within to determine where she truly belongs.