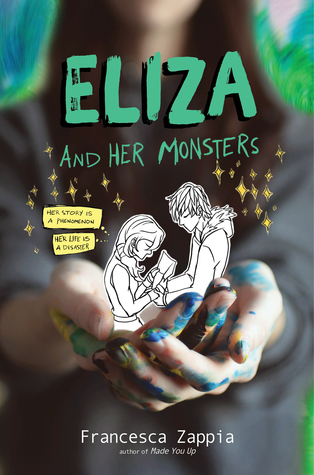 Eliza and Her Monsters by Francesca Zappia
Release Date: May 30, 2017
Genres: YA contemporary
Rating: 🌟 🌟 🌟 🌟
Her story is a phenomenon. Her life is a disaster.
In the real world, Eliza Mirk is shy, weird, and friendless. Online, she's LadyConstellation, the anonymous creator of the wildly popular webcomic Monstrous Sea. Eliza can't imagine enjoying the real world as much as she loves the online one, and she has no desire to try.
Then Wallace Warland, Monstrous Sea's biggest fanfiction writer, transfers to her school. Wallace thinks Eliza is just another fan, and as he draws her out of her shell, she begins to wonder if a life offline might be worthwhile.
But when Eliza's secret is accidentally shared with the world, everything she's built—her story, her relationship with Wallace, and even her sanity—begins to fall apart.
"Broken people don't hide from their monsters. Broken people let themselves be eaten."
I read this in one sitting, and it was so good. Just quickly what I liked about it:
Eliza, our MC, was just someone you could support. She had her flaws, but at the end of the day you couldn't help but root for her. It's easy to judge her mistakes while reading this, but she had her reasons. Her passion for what she does though is pretty remarkable.
The romance was adorable af and so was Wallace. I really loved how their relationship developed. They never pressured each other to do something they were uncomfortable with. Their relationship wasn't perfect at all, especially at the end. They both make their fair share of mistakes, but they're teenagers. Who here hasn't made their share of mistakes?
This book showed exactly how easily teenagers are dismissed as being dramatic or childish by adults.
I liked that it had pages from Eliza's webcomic. The illustrations were beautiful!
I loved how this validated online friendships. As someone who's been told that those don't really count, I'm glad this type of friendship was shown in such a positive light.
I thought this was going to be more lighthearted than it was, but I liked how mental illness and social anxiety were portrayed (what we saw of it anyway. I do wish it was expanded on a bit more.
The plot wasn't super original, but the characters more than make up for it. Introverts like me will be able to relate to at least one character.

"She drew so many monsters that she became a monster herself."