Simon vs. the Homo Sapiens Agenda by Becky Albertalli
Release Date: April 7, 2015
Genres: YA contemporary
Rating: 🌟 🌟 🌟 🌟
Sixteen-year-old and not-so-openly gay Simon Spier prefers to save his drama for the school musical. But when an email falls into the wrong hands, his secret is at risk of being thrust into the spotlight. Now Simon is actually being blackmailed: if he doesn't play wingman for class clown Martin, his sexual identity will become everyone's business. Worse, the privacy of Blue, the pen name of the boy he's been emailing, will be compromised.
With some messy dynamics emerging in his once tight-knit group of friends, and his email correspondence with Blue growing more flirtatious every day, Simon's junior year has suddenly gotten all kinds of complicated. Now, change-averse Simon has to find a way to step out of his comfort zone before he's pushed out—without alienating his friends, compromising himself, or fumbling a shot at happiness with the most confusing, adorable guy he's never met.
"Why is straight the default? Everyone should have to declare one way or another, and it shouldn't be this big awkward thing whether you're straight, gay, bi, or whatever. I'm just saying."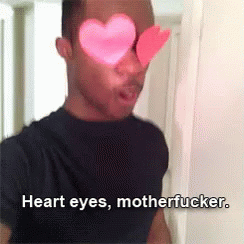 It only took me 2.5+ years to get this. And I hate myself for it because I FUCKING LOVED IT.
<— Accurate representation of me while reading this book.
I'm not even going to talk about the plot because I know everyone and their mothers have read this book. BUT THE CHARACTERS. *cries for the rest of my life*
Simon and a boy from his school have been emailing back and forth for the past few months under pen names. We have no idea who Blue is until the end of the book, but he quickly became my favorite character. He is so shy and adorable and sweet and supportive. And when he flirts with Simon *dies*
Simon was a sympathetic and resilient character. He goes through a lot in this book and he always keeps his head up. His POV was entertaining and he's just a funny person. Honestly he just made me smile. Also, all the Harry Potter references were spot on.
"What's a dementor?"
I mean, I can't even. "Nora, you are no longer my sister."
"So it's some Harry Potter thing," she says.
I adored Leah, Nick, and Abby. I thought the friendships in this book were portrayed so realistically. I do wish we had learned more about them outside of their relationship to Simon. Leah was probably the character I had the most issues with, but that just makes me more excited for Leah on the Offbeat, I really want to learn more about her.
And I loved Simon's family. They're nosy, and a little weird, but they love Simon so much. I'm trash for supportive families y'all.
Overall these characters were flawed but realistic and likable.
This book made me soooooooo happy!!!! I read this in one sitting, so that should tell you how much I loved it. If you're looking for a fun, fluffy, and adorable read, pick this up! (Assuming you're one of the last 10 people on Earth who hasn't read this lmao)