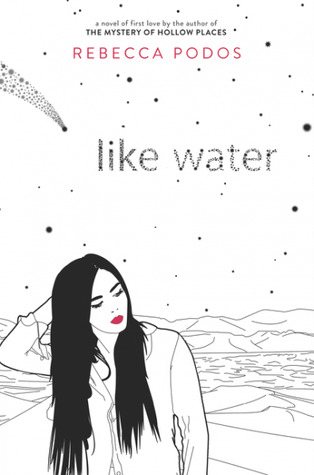 Like Water by Rebecca Podos
Release Date: October 17, 2017
Genres: YA contemporary
Rating: 🌟 🌟 🌟 🌟
A gorgeously written and deeply felt literary young adult novel of identity, millennial anxiety, and first love, from the widely acclaimed author of The Mystery of Hollow Places
In Savannah Espinoza's small New Mexico hometown, kids either flee after graduation or they're trapped there forever. Vanni never planned to get stuck—but that was before her father was diagnosed with Huntington's disease, leaving her and her mother to care for him. Now, she doesn't have much of a plan at all: living at home, working as a performing mermaid at a second-rate water park, distracting herself with one boy after another.
That changes the day she meets Leigh. Disillusioned with small-town life and looking for something greater, Leigh is not a "nice girl." She is unlike anyone Vanni has met, and a friend when Vanni desperately needs one. Soon enough, Leigh is much more than a friend. But caring about another person stirs up the moat Vanni has carefully constructed around herself, and threatens to bring to the surface the questions she's held under for so long.
With her signature stunning writing, Rebecca Podos, author of The Mystery of Hollow Places, has crafted a story of first love and of the complex ways in which the deepest parts of us are hidden, even from ourselves.

This was so good, I want to cry.
Savannah, aka Vanni, is a recent high school graduate who has no idea what to do next. Ever since her father has been diagnosed with Huntington's she can feel her life slipping away since this disease can be genetically passed down. She has no idea if she should take the test to know if she tests positive for Huntington's or if living in uncertainty is the better option. Vanni tries to find ways to deal with all this fear in her life, most of which involves not talking to any of her friends and losing herself in boys.
One day she meets this boy named Lucas and his sister Leigh. She forms an unexpected friendship with Leigh, which then turns into something more. This is a huge surprise to Vanni, since this is a part of her sexuality that she never really knew existed.
I loved Vanni and Leigh. They weren't perfect, like at all, and at times they were even a bit unlikable. But they were so relatable, and they each had their own issues and problems they had to deal with. I loved that not only was their relationship so authentic and messy, but also their relationships with each of their families. I loved every scene where we got to see Lucas and Leigh interact, as well as Vanni and her dad.
For some reason I thought this book was going to be sad? I mean, Vanni is dealing with anxiety, crippling fear about what her future is going to look like, a new relationship; it's enough to make anyone's life very stressful. But Podos writes Savannah's story with brutal honesty and the sad scenes never overwhelm the hopeful and funny scenes.
Podos writing was beautiful. It was lyrical, honest, and raw. I loved how effortlessly Spanish was infused into the dialogue between Vanni and her family. Though I do realize that there weren't any English translations for the few phrases that were in Spanish, so if you experience with Spanish there can be a few phrases where you'll have no idea what they're saying, but it's not that big of a deal.
This was such a heartfelt story, filled with a memorable cast. I hope everyone gives it a chance when it releases! Also, there are mermaids here, so that's an automatic plus in my book.

**ARC provided by Edelweiss in exchange for an honest review**