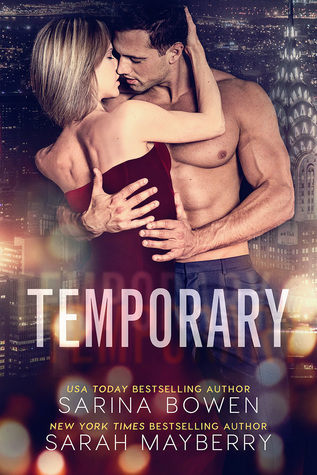 Temporary by Sarina Bowen & Sarah Mayberry
Release Date: September 12, 2017
Genres: Romance
Rating: 🌟 🌟 🌟 🌟
The most beautiful man I've ever seen is the one who can ruin everything…
The first time I lay eyes on Callan Walker, I know he'll be trouble. With his smug grin, hot Aussie accent and thousand dollar shoes, he's just the kind of rich guy who always gets what he wants.
And he wants two things: a night of sin, and my cooperation as he outmaneuvers his powerful mother to take control of his uncle's estate.
I can't afford either one. I'm the only thing standing between my little sister and the foster care system. He may have money and charm on his side, but I have something even more powerful — pure desperation. This temp job at his mother's company can become a full time job for me. It has to.
But when Callan's eyes rake over my body, sometimes I forget my obligations. His piercing gaze finds the fun, optimistic girl I used to be and not the tired person I've become.
And it works–if only for a moment. Our night together was a mistake. I can't afford to get sucked into his high-powered family's treachery. But the closer I get to Callan, the more layers I find beneath those expensive clothes. Though I can't forget this is temporary. He's temporary. I have too much to lose.
Too bad my foolish heart didn't get the memo…
I thoroughly enjoyed Temporary!
This story followed our two main characters's: Grace and Callan. Grace is working as a temp, a job she has to keep as she is the guardian of her 15-year-old sister. Callan is seemingly living the perfect life. He spends his time lying around on fancy yachts, and partying with his friends in Australia.
Callan's world is turned upside down when he finds out his Uncle Jack, the one member of his family he loved, has passed away. He decides to fly to New York to make sure his last remaining wishes are fulfilled. When he realizes his mother has hired a temp to see to all his possessions he's livid.
Grace is just trying to support herself and her sister. Working as a temp at Walker Holdings is by no means her "dream job." But it's stable, and could possibly lead to a permanent position.
There's not a lot happening plot wise, so this story does rely heavily on its characters to carry it. I wish we had learned a little bit more about Grace and Callan as individuals, I saw a lot of growth from them as a couple, but not really individually. I feel like the authors only scratched the surface when it came to them outside the relationship they were forming.
This is a quick and laid-back story (nothing too angsty). And I think there's going to be a sequel? Not for Callan and Grace, but there's another character who could possibly get a story… I guess we'll see.
**ARC provided by the author in exchange for an honest review**