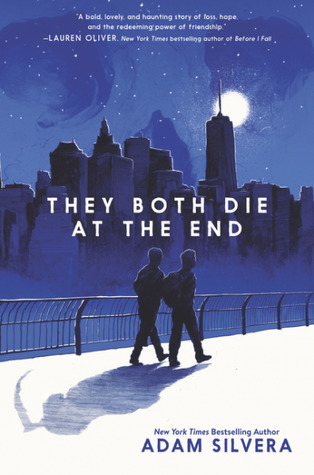 They Both Die at the End by Adam Silvera
Release Date: September 5, 2017
Genres: YA contemporary, sci-fi
Rating: 🌟 🌟 🌟 🌟 🌟
When Mateo receives the dreaded call from Death-Cast, informing him that today will be his last, he doesn't know where to begin. Quiet and shy, Mateo is devastated at the thought of leaving behind his hospitalised father, and his best friend and her baby girl. But he knows that he has to make the most of this day, it's his last chance to get out there and make an impression.
Rufus is busy beating up his ex-girlfriend's new boyfriend when he gets the call. Having lost his entire family, Rufus is no stranger to Death-Cast. Not that it makes it any easier. With bridges to mend, the police searching for him and the angry new boyfriend on his tail, it's time to run.
Isolated and scared, the boys reach out to each other, and what follows is a day of living life to the full. Though neither of them had expected that this would involve falling in love…
The whole idea about this story is amazing! This is an alternate world where a company called Death-Cast calls people around midnight to tell them that within the next 24 hours they will die. This gives people the chance to say their goodbyes, do whatever it is you'd do on your last day, and even plan or attend their own funeral. Then there's this app called Last Friend which brings together Decker's (what people who are going to die are called) so that no one spends their last day together if they don't want to. This app is what brings Mateo Torrez and Rufus Emeterio together.
Mateo is a gay Puerto-Rican 18-year old and one of our two main protagonists. He is also one of the most precious characters I've ever read about. I spent the entire book wanting to protect him from any harm. His anxiety at the beginning of the story was so apparent and seeing him come out of his shell and gain more confidence throughout the story made my heart so happy. Our other protagonist is Rufus, a bisexual 17-year old Cuban-American. He's a little rough around the edges, but he is such a loving person. He is loyal to his core, and will do anything for his loved ones.
Both characters show a lot of growth throughout the story and seeing their friendship develop and deepen was amazing to read about. They make the perfect team. They are complete opposites but they complement each other in the best way. I cry just thinking about them.
Of course, Silvera's writing was beautiful and he perfectly straddled the line between heartbreak and comedy. Like how, this book made me cry and laugh simultaneously. I also really enjoyed all the extra POV chapters. We get just a glimpse into the lives of minor characters or even random strangers in-between Rufus and Mateo's story.
And I don't know why, but knowing how this was going to end made it even more heart-breaking. This book made me question my own mortality, how I could literally die tomorrow and if I'm satisfied with how I've lived my life so far. It made me face my thoughts on my own death (whenever that may be). I have never felt so called out. How would I react if I got a call saying I was going to die within 24 hours? Yikes, I honestly can't even think of that.
This was an amazing story and I recommend it to everyone!
**ARC provided by Edelweiss in exchange for an honest review**