What are you currently reading?

Sustained (The Legal Briefs #2) by Emma Chase
A knight in tarnished armor is still a knight.
When you're a defense attorney in Washington, DC, you see firsthand how hard life can be, and that sometimes the only way to survive is to be harder. I, Jake Becker, have a reputation for being cold, callous, and intimidating—and that suits me just fine. In fact, it's necessary when I'm breaking down a witness on the stand.
Complications don't work for me—I'm a "need-to-know" type of man. If you're my client, tell me the basic facts. If you're my date, stick to what will turn you on. I'm not a therapist or Prince Charming—and I don't pretend to be.
Then Chelsea McQuaid and her six orphaned nieces and nephews came along and complicated the ever-loving hell out of my life. Now I'm going to Mommy & Me classes, One Direction concerts, the emergency room, and arguing cases in the principal's office.
Chelsea's too sweet, too innocent, and too gorgeous for her own good. She tries to be tough, but she's not. She needs someone to help her, defend her…and the kids.
And that — that, I know how to do.
What have you recently finished reading?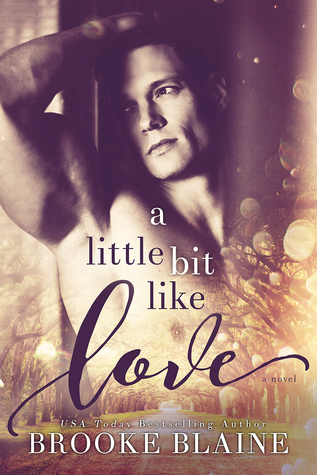 A Little Bit Like Love (South Haven #1) by Brooke Blaine
What if you had everything in the world you wanted…except the man you'd left behind?
Jackson Davenport, the charismatic, strait-laced heir to the Davenport fortune, has a secret. One he's been hiding since he graduated from South Haven all-boys academy—and that secret's name is Lucas.
When a work trip takes Jackson back to his old stomping grounds, memories of the year he shared with Lucas come crashing to the surface. With growing pressure from his father to settle down and take over the family business, Jackson knows he's on borrowed time, and sets out to find the free-spirited daredevil he once knew.
But Lucas isn't the same man he was eight years ago.
One night. A shattered heart. And an endless parade of nameless faces. Lucas Sullivan is South Haven's ultimate playboy, a reputation he's honed since the only boy he ever loved left without a trace. To the world, he's brash and confident, an in-demand artist who spends his days designing one-of-a-kind pieces and his nights as king of the downtown scene.
Many have tried and failed to get past the barrier he's carefully constructed, but it's the shy, studious boy he once coaxed out of his shell who still haunts him.
Maybe it was a mistake. Maybe it was lust. Or maybe…it was a little bit like love.
What do you think you'll read next?
Burn for Me (Hidden Legacy #1) by Ilona Andrews
Nevada Baylor is faced with the most challenging case of her detective career—a suicide mission to bring in a suspect in a volatile case. Nevada isn't sure she has the chops. Her quarry is a Prime, the highest rank of magic user, who can set anyone and anything on fire.
Then she's kidnapped by Connor "Mad" Rogan—a darkly tempting billionaire with equally devastating powers. Torn between wanting to run or surrender to their overwhelming attraction, Nevada must join forces with Rogan to stay alive.
Rogan's after the same target, so he needs Nevada. But she's getting under his skin, making him care about someone other than himself for a change. And, as Rogan has learned, love can be as perilous as death, especially in the magic world.