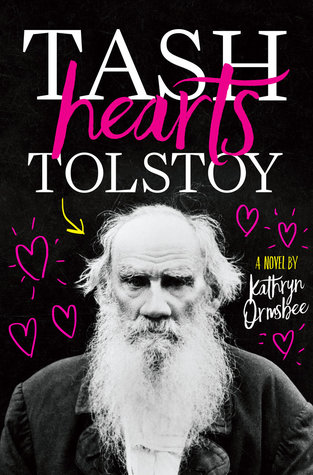 Tash Hearts Tolstoy by Kathryn Ormsbee
Release Date: June 6, 2017
Genres: YA contemporary
Rating: 🌟 🌟 🌟 🌟
After a shout-out from one of the Internet's superstar vloggers, Natasha "Tash" Zelenka finds herself and her obscure, amateur web series, Unhappy Families, thrust into the limelight: She's gone viral.Her show is a modern adaptation of Anna Karenina—written by Tash's literary love Count Lev Nikolayevich "Leo" Tolstoy. Tash is a fan of the forty thousand new subscribers, their gushing tweets, and flashy Tumblr GIFs. Not so much the pressure to deliver the best web series ever.
And when Unhappy Families is nominated for a Golden Tuba award, Tash's cyber-flirtation with Thom Causer, a fellow award nominee, suddenly has the potential to become something IRL—if she can figure out how to tell said crush that she's romantic asexual.
Tash wants to enjoy her newfound fame, but will she lose her friends in her rise to the top? What would Tolstoy do?

This book was soooo cute. It was adorable and funny and *sigh*
Tash Hearts Tolstoy follows Natasha "Tash" Zelenka and her friends who become famous overnight. Tash is obsessed with Tolstoy and decided to create and direct a webseries that retells Anna Karenina in a modern way. After a famous Youtuber gives them a shout-out they find themselves going viral with 40,000+ new followers.
I loved all the supporting characters. But I'll admit it took me a while to figure out who was who. I feel like all these characters were mentioned within a few chapters and I was lost for a little too long. But when I finally got them all straight they were great, especially Jack and Paul, siblings and Tash's best friends. Tash, Jack, and Paul's friendship is definitely one of the best parts of the book. Paul and Jack are complete opposites, but both amazing and precious in their own ways. (Paul is literal sunshine.) Like these are the friends you wish you had.
There's also a lot of focus on familial relationships. Tash's parents were amazing, like YA is sorely lacking from great parents. Tash's dad is a chef so obviously he's my favorite.
The whole reason I picked this up was because the main character is asexual. ( I. Am. Here. For. It.) Tash is romantic asexual, and she struggles a lot with this when it comes to terms of what it means for her and future relationships. She's insecure and confused about her sexuality and hurt when other people doubt that asexuality is real. (The A in LGBTQIAP stands for Asexual wtf.)
While the story isn't technically about her sexuality it is a big part of it. I loved how the author made a point to explain what being ace meant for Tash specifically because obviously it doesn't mean the same thing for everyone. FYI, there is aphobia here, but it's never condoned and it's mostly stereotypes and misconceptions when it comes to asexuality.
Also I've heard that this is one of the most accurate representations of YouTube. Like having a channel and all the work that goes into it, or keeping up with social media accounts, and what to do when that hate starts to roll in. So if that interest you definitely try this!
Bottom line, this was really great. It's very relatable and funny, all of you should check it out.