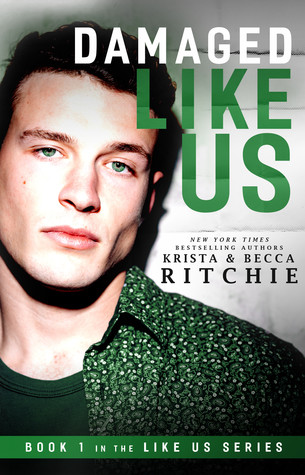 Damaged Like Us by Krista & Becca Ritchie
Series: Like Us #1
Release Date: June 27, 2017
Genres: New Adult, Romance
Rating: 🌟 🌟 🌟
Don't date your bodyguard.
It was the one rule he had to break.
Maximoff Hale is a force of nature. A ship unwilling to be steered. Headstrong, resilient, and wholly responsible — the twenty-two-year-old alpha billionaire can handle his unconventional life. By noon, lunch can turn into a mob of screaming fans. By two, his face is all over the internet.
Born into one of the most famous families in the country, his celebrity status began at birth.
He is certified American royalty.
When he's assigned a new 24/7 bodyguard, he comes face-to-face with the worst case scenario: being attached to the tattooed, MMA-trained, Yale graduate who's known for "going rogue" in the security team — and who fills 1/3 of Maximoff's sexual fantasies.
Twenty-seven-year-old Farrow Keene has one job: protect Maximoff Hale. Flirting, dating, and hot sex falls far, far out of the boundary of his bodyguard duties and into "termination" territory. But when feelings surface, protecting the sexy-as-sin, stubborn celebrity becomes increasingly complicated.
Together, boundaries blur, and being exposed could mean catastrophic consequences for both.
2.5 – 3 stars
Let me start by saying that this was nothing like I thought it would be. I had like 10 different theories about what was going to happen and who certain characters were going to end up with and I only one came true. So much about this book surprised me, some in a good way, others not so much.
This was such an okay start to the Like Us series. Krista and Becca managed to make me fall in love with every single character. I really hope this series ends up being more than 3 books because we need books about Janie and Sulli, and hopefully we can get more stories for the other characters.
There's an ensemble of characters here, each one unique in their own way. Moffy, Janie, and Sulli lived up to all of my expectations. Moffy and Janie's friendship was amazing to read about, it was one of my favorite parts of the book, so was seeing Moffy with his siblings. Sulli didn't have as much "screen-time" as the other characters, but she is definitely one of the more interesting ones. Hopefully she'll have a bigger part in Lovers Like Us because I would love to see more of her.
Also, the Omega security team was amazing, specifically Akara and Quinn. And shout out to Jack Highland, you seem interesting. I do wish we would have learned a little bit more about Farrow and that his and Moffy's relationship was a bit more developed, hopefully that will happen in the next book.
What I Didn't Like
Moffy's issues with Ryke (please get over it already)
"forest green eyes", lots of talk about Moffy's jaw
core 6 reaction to the rumors at the end ://
So far, Farrow's kind of boring
There's a lot more that I want to say, but I'm pretty sure it's all a spoiler. So I'll leave you by saying you should go in with zero expectations, because you'll definitely be wrong.