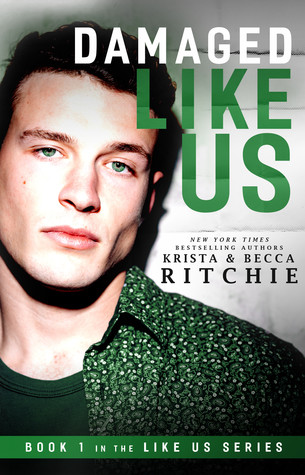 Damaged Like Us by Krista & Becca Ritchie
Series: Like Us #1
Release Date: June 27, 2017
Genres: New Adult, Romance
Don't date your bodyguard.
It was the one rule he had to break.
Maximoff Hale is a force of nature. A ship unwilling to be steered. Headstrong, resilient, and wholly responsible — the twenty-two-year-old alpha billionaire can handle his unconventional life. By noon, lunch can turn into a mob of screaming fans. By two, his face is all over the internet.
Born into one of the most famous families in the country, his celebrity status began at birth.
He is certified American royalty.
When he's assigned a new 24/7 bodyguard, he comes face-to-face with the worst case scenario: being attached to the tattooed, MMA-trained, Yale graduate who's known for "going rogue" in the security team — and who fills 1/3 of Maximoff's sexual fantasies.
Twenty-seven-year-old Farrow Keene has one job: protect Maximoff Hale. Flirting, dating, and hot sex falls far, far out of the boundary of his bodyguard duties and into "termination" territory. But when feelings surface, protecting the sexy-as-sin, stubborn celebrity becomes increasingly complicated.
Together, boundaries blur, and being exposed could mean catastrophic consequences for both.
So this series has been in the works for a few years, and it's finally being released (tomorrow!!). This is a brand new series (so you don't have to read any of their past books), and it follows a family of celebrities and the people who protect them (a.k.a their bodyguards).
If you're a fan of romance / new adult books with complex and fully-fleshed characters, A+ family dynamics, and soul-mate level love, you have to check these authors out and all their books. Their characters always have the most amazing character growth, and the banter between them (any character from any of their books) is hilarious. Gah, I can literally talk about all their characters for hours, okay? They are all amazing in their own way.
These are my all-time favorite authors. Every book they write is soooo good in its own way, and you can tell Krista & Becca pour their souls into their stories and characters. Honestly, I love every single word these girls write. (And I know Damaged Like Us will not be an exception.)
Enter below ↓ for a chance to win an e-copy of Damaged Like Us. Also, there's a lot more fun stuff / giveaways happening in the Facebook group, here.
Giveaway #1:
a Rafflecopter giveaway of one (1) Kindle, Nook or iBooks ebook copy
Giveaway #2
a Rafflecopter giveaway gift card & signed paperback
Excerpt
DAMAGED LIKE US – Release Blitz Excerpt
Maximoff Hale POV
"Number twelve." I nod to the list.

He eyes me for a long moment before focusing on the paper. "It says that you're not used to letting other people behind the wheel." It actually says I always drive.

I glance at him once, then back to the road. "I didn't realize that you can't read." I switch lanes.

I can almost feel his smile stretch. "Always a precious smartass." I hear him flip a page. "You have a typo on number thirty-two."

He called me precious. What the fuck does that even mean? Precious. I have to let it go, but the word scrolls across my gaze like a tickertape banner. "What typo?"

"You forgot a comma."

I let out an irritated groan. "This isn't a term paper. Don't critique my grammar."

Farrow kicks up one of his shoes on my seat. Balancing his forearm on his knee. Then he bites the staple off and spits it out. I tense and try to watch him and the road simultaneously.

He has a very particular way he moves his hands. They shift with meticulousness and care. A sort of accuracy that belongs to surgeons and someone equipped to disassemble and reassemble a gun blindfolded.

I've imagined those hands on me too many times to count. Don't fucking restart now. I'm trying not to, but having him this close, the NC-17 fantasies vie to breach the surface. Heat blankets my skin and tries to grip my cock.

Thumbing through the papers, Farrow tells me, "You're about to miss our exit."

"Shit."
About Krista & Becca Ritchie
Krista & Becca Ritchie are New York Times and USA Today bestselling authors and identical twins—one a science nerd, the other a comic book geek—but with their shared passion for writing, they combined their mental powers as kids and have never stopped telling stories. Now in their early twenties, they write about other twenty-somethings navigating through life, college, and romance. They love superheroes, flawed characters, and soul mate love.
They are the New Adult authors of the Addicted series and Calloway Sisters spin-off series, and you can find them on almost every social media, frolicking around like wannabe unicorns.