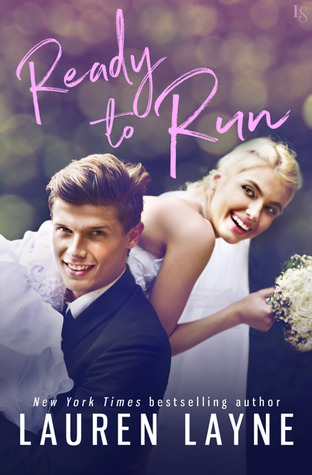 Ready to Run by Lauren Layne
Series: (I Do, I Don't #1)
Release Date: August 22, 2017
Genres: Contemporary romance
Rating: 🌟 🌟 🌟
The Bachelor meets The Runaway Bride in this addictive romance novel about a reality TV producer falling for her would-be star: a Montana heartthrob who wants nothing to do with the show.
Jordan Carpenter thinks she's finally found the perfect candidate for Jilted, a new dating show about runaway grooms: firefighter Luke Elliott, a known player who's left not one but three brides at the altar. The only problem? Luke refuses to answer Jordan's emails or return her calls. Which is how she ends up on a flight to Montana to recruit him in person. It's not Manhattan, but at least the locals in Lucky Hollow seem friendly . . . except for Luke, who's more intense—and way hotter—than the slick womanizer Jordan expected.
Eager to put the past behind him, Luke has zero intention of following this gorgeous, fast-talking city girl back to New York. But before he can send her packing, Jordan's everywhere: at his favorite bar, the county fair, even his exes' book club. Annoyingly, everyone in Lucky Hollow seems to like her—and deep down, she's starting to grow on him too. But the more he fights her constant pestering, the more Luke finds himself wishing that Jordan would kick off her high heels and make herself comfortable in his arms.
Ready to Run follows Jordan Carpenter, a producer for a show called Jilted. Jilted is an upcoming show; it's about men who have left women at the alter looking for love, a.k.a. The Bachelor with a twist. When she finds the perfect candidate in Luke Elliot she decides to drive to Montana to convince him to join the show.
Luke has left 3 women at the alter, and as you could imagine, he wants no part in TV show that would air out all his dirty laundry. He loves his small-town life and his career as a firefighter, he has no interest in being on TV.
This was such a breezy read. However, the characters here were not my favorite. I am so used to falling head over heels for Layne's characters in her Oxford series and Sex, Love & Stiletto series so I was a bit disappointed that I didn't in Ready to Run. I don't know if the story was too short and the two main characters didn't have time to fully develop or if I just couldn't connect to them. But something didn't fully click for me.
I will say I am more excited about the second book, Runaway Groom, than I was for this one. The Bachelor/Bachelorette is my guilty pleasure, okay? Like two seasons ago I decided to watch it because there was nothing else on TV and I got hooked. I hate it but it happened. So I'm excited for Runaway Groom because it will actually take place on the set of the show and follow the contestant of it.
While this wasn't my favorite Lauren Layne book it was by no means a bad one. This was a very quick and easy read, and it was a nice change of pace from the past few weeks of just reading textbooks for my exams.