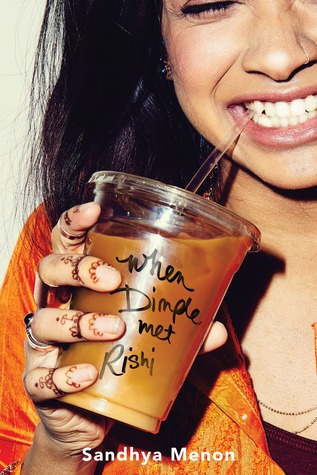 When Dimple Met Rishi by Sandhya Menon
Release Date: May 30, 2017
Genres: YA contemporary
Rating: 🌟 🌟 🌟 🌟
A laugh-out-loud, heartfelt YA romantic comedy, told in alternating perspectives, about two Indian-American teens whose parents have arranged for them to be married.
Dimple Shah has it all figured out. With graduation behind her, she's more than ready for a break from her family, from Mamma's inexplicable obsession with her finding the "Ideal Indian Husband." Ugh. Dimple knows they must respect her principles on some level, though. If they truly believed she needed a husband right now, they wouldn't have paid for her to attend a summer program for aspiring web developers…right?
Rishi Patel is a hopeless romantic. So when his parents tell him that his future wife will be attending the same summer program as him—wherein he'll have to woo her—he's totally on board. Because as silly as it sounds to most people in his life, Rishi wants to be arranged, believes in the power of tradition, stability, and being a part of something much bigger than himself.
The Shahs and Patels didn't mean to start turning the wheels on this "suggested arrangement" so early in their children's lives, but when they noticed them both gravitate toward the same summer program, they figured, Why not?
Dimple and Rishi may think they have each other figured out. But when opposites clash, love works hard to prove itself in the most unexpected ways.

There is no word to describe this book other than adorable.
It all begins with Dimple, the daughter of Indian immigrants. Her momma is set on finding her an IIH, a.k.a. an Ideal Indian Husband, which Dimple is more than against. When she asks her parents if she can attend a six-week summer workshop for aspiring web developers she is taken completely by surprise when they say yes.
Enter Rishi. He is very excited about going to the summer program that his potential future wife will be attending. He is very traditional and takes pride in his culture. He is genuinely excited about the idea of getting married and a romantic at heart.
Dimple Shah is so fierce. She is comfortable in her own skin, passionate, and independent. I can get behind a character who is determined to stay true to herself, no matter what anyone thinks. Then we have Rishi. Rishi Patel is just so nice. He is so full of life, he's kind, and honestly he's just a dork. (The way he introduces himself to Dimple, I died.) This is so rare to find in a male love interest in a YA book, it was refreshing to read about him. Also, the two main side characters, Ashish and Celia, were very fleshed out and added an extra layer to the story.
Of course, Indian culture plays a huge role in the story. But don't worry if you don't know a lot about it, it is effortlessly infused into the plot, and very easy to follow. And honestly, you come out of this with a more general knowledge of Indian culture; their customs, makeup, fashion, some Hindi phrases, etc. Also, the humor was 10/10.
There were a few very tiny things that weren't my favorite (hence 4 stars). First, there were a few times throughout the book where the constant POV changes got annoying. At one point the POV changed like 5 times in 2 pages. There was a subtle vibe of "I'm not like other girls" but it's really not too bad, and I've seen a few reviews of people saying they can understand why Dimple would feel that way.
But seriously everyone, this book was adorable. It's a happy story about two Indian kids falling in love, following their dreams, just in general being super dorky together. I want to hug all these characters.