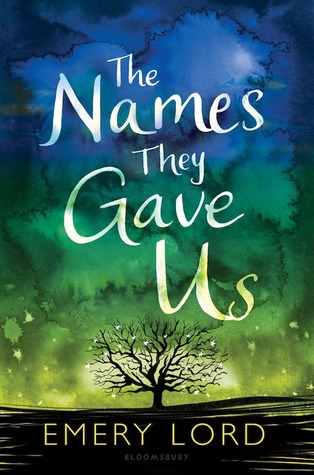 The Names They Gave Us by Emery Lord
Release Date: May 16, 2017
Genres: YA contemporary
Rating: 🌟 🌟 🌟 🌟
When it all falls apart, who can you believe in?
Everything is going right for Lucy Hansson, until her mom's cancer reappears. Just like that, Lucy breaks with all the constants in her life: her do-good boyfriend, her steady faith, even her longtime summer church camp job.
Instead, Lucy lands at a camp for kids who have been through tough times. As a counselor, Lucy is in over her head and longs to be with her parents across the lake. But that's before she gets to know her coworkers, who are as loving and unafraid as she so desperately wants to be.
It's not just new friends that Lucy discovers at camp—more than one old secret is revealed along the way. In fact, maybe there's much more to her family and her faith than Lucy ever realized. (
"I believe in nature, in science, in jazz, in dancing. And I believe in people. In their resilience, in their goodness. This is my credo; this is my hymn."
The Names They Gave Us was so freaking good. It was raw and emotional, and of course the writing was lovely, just like every other Emery Lord book. I'll admit the beginning was just a bit slow, which is why I gave it 4 stars instead of 5, but it truly was amazing!
Honestly I don't even know what happened, but this whole cast of characters felt so authentic to me. Maybe it's because I'm a sucker for friends who support and love each other, yeah, yeah, I love it. This group of friends – Lucy, Anna, Jones, Keely, Mohan – were so inspiring, and this is so rare to find in YA.
"And I want to be one of them. I want to be one of them so, so badly — to fit into this balance, their history, the wolf pack way of them."
Lucy Hansson, the daughter of a preacher, has grown up with her faith, she relies on it to get her through tough times, like when her mom gets diagnosed with breast cancer for a second time. She's looking forward to spending the summer with her parents at their church camp, but soon decides to volunteer as a counselor at a camp for troubled kids after her mom begs her to.
Lucy's beliefs, and her doubts, do play a big part in story but it's never overwhelming. There's not a whole lot happening plot wise, but like I said the characters are very fleshed out and diverse. They are the reason you'll love this book. Lucy is by no means perfect, but she's accepting and open-minded though she can be naïve at times. Watching her evolve and make these new friendships was so wonderful to read about. There is also a romance here, and I'll just say that it's very… sweet. It never takes over the story, but it is an added perk to the book and it'll keep you smiling throughout.
This story does deal with a lot of heavy topics, and not just Lucy but all the characters, and I hope everyone gives it a chance. You'll definitely be dealing with a whole range of emotions.