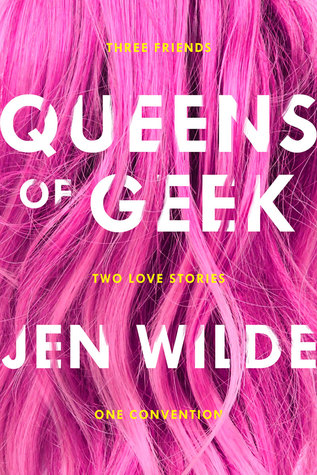 Queens of Geek by Jen Wilde
Release Date: March 14, 2017
Genres: YA contemporary
Rating: 🌟 🌟 🌟 🌟 🌟
When BFFs Charlie, Taylor and Jamie go to SupaCon, they know it's going to be a blast. What they don't expect is for it to change their lives forever.
Charlie likes to stand out. SupaCon is her chance to show fans she's over her public breakup with co-star, Reese Ryan. When Alyssa Huntington arrives as a surprise guest, it seems Charlie's long-time crush on her isn't as one-sided as she thought.
While Charlie dodges questions about her personal life, Taylor starts asking questions about her own.
Taylor likes to blend in. Her brain is wired differently, making her fear change. And there's one thing in her life she knows will never change: her friendship with Jamie—no matter how much she may secretly want it to. But when she hears about the Queen Firestone SupaFan Contest, she starts to rethink her rules on playing it safe.

So, this book has been sitting on my shelf for like a month, because finals. I am so glad I finally have time to read again. I'm also so glad that I picked this one to start the summer, because this book was awesome. This book, you guys, is soooo adorable and I dare you to read it and not smile throughout most of it. Spoiler alert: it's impossible.
Queens of Geek is told in 2-POVS, best-friends Taylor and Charlie. First we have Taylor, she's on the autism spectrum, at SupaCon to meet her all-time favorite author, and in love with her best friend Jamie. I absolutely adored Taylor. I found her incredibly relatable, especially when she talks about meeting her favorite author, and all the nerves and anxiety that threaten to overtake her. Her fears and worries felt so raw and it was impossible to not feel for her. And Jamie. Jamie was so cute, he was so supportive and understanding when it came to Taylor and I just… *sigh* I ship them. I ship them so much. And while he doesn't have a POV he is definitely a very significant character.
The next POV is Charlie, she's a bisexual Chinese-Australian vlogger turned actress at SupaCon promoting her movie and its sequel. While she's there she realizes her ex-boyfriend (who she starred in the movie with) is there as well, even though the last thing she wants is to see him. Later she meets Alyssa, a fellow vlogger and a long-time crush. Let me just say that Alyssa is awesome. Seriously. I loved Charlie, she's real, strong, and very honest. There were times she felt absolutely fearless and empowering, she's proud and confident in her heritage and sexuality, and you can't help but admire her.
I thought this book was so well written. There were instances of body shaming, sexism, and biphobia, and then , the characters shut the shit down. I also thought the friendship between Taylor and Charlie was so genuine. Like they are there for each through thick and thin. They both have their issues but it never stops them from being there for their BFF. I loved it all. You know this friendship is one for the ages.
SupaCon is the ultimate convention for sci-fi fans. There were so many pop culture references here, and I was so happy because I recognized all of them. I am geeky, if you hadn't noticed. I thought Queens of Geek had an accurate and positive depiction of fandom. The romances were absolutely swoon worthy. Also when it comes to alternating POVs, there's always this worry of liking or being invested in one character more than the other. I just want to say that I had no problems with that. Both characters were developed and complex, and both romances made my heart happy.
I will say that this story is very character driven, so if that's not your thing… These characters are driving the story, which takes places over a few days while at SupaCon. I honestly don't have anything negative to say about this. So I'm just gonna end this by saying: read this!