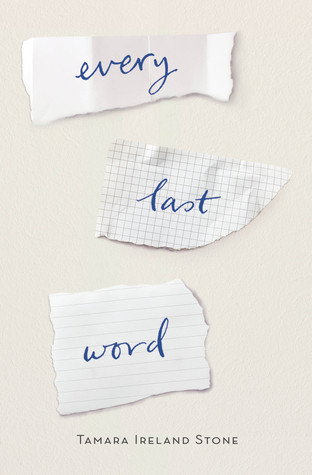 Every Last Word by Tamara Ireland Stone
Release Date: June 16th, 2015
Genres: YA contemporary, mental health
Rating: 🌟 🌟 🌟 🌟
If you could read my mind, you wouldn't be smiling.
Samantha McAllister looks just like the rest of the popular girls in her junior class. But hidden beneath the straightened hair and expertly applied makeup is a secret that her friends would never understand: Sam has Purely-Obsessional OCD and is consumed by a stream of dark thoughts and worries that she can't turn off.
Second-guessing every move, thought, and word makes daily life a struggle, and it doesn't help that her lifelong friends will turn toxic at the first sign of a wrong outfit, wrong lunch, or wrong crush. Yet Sam knows she'd be truly crazy to leave the protection of the most popular girls in school. So when Sam meets Caroline, she has to keep her new friend with a refreshing sense of humor and no style a secret, right up there with Sam's weekly visits to her psychiatrist.
Caroline introduces Sam to Poet's Corner, a hidden room and a tight-knit group of misfits who have been ignored by the school at large. Sam is drawn to them immediately, especially a guitar-playing guy with a talent for verse, and starts to discover a whole new side of herself. Slowly, she begins to feel more "normal" than she ever has as part of the popular crowd… until she finds a new reason to question her sanity and all she holds dear.
I think there comes a time in all our lives where we wonder if we've outgrown YA contemporary books, thankfully, the answer to that question for me is a very firm no. I fell completely head over heels in love with Every Last Word.
This book stars Samantha McAllister, who suffers from Pure O OCD (Pure Obsessional OCD), which is a bit different from the OCD I usually read about. This basically means that Samantha suffers from the obsessional thoughts of OCD more than the compulsions. When she meets Caroline, a girl Sam instantly feels a connection to, she introduces Sam to this thing called Poets Corner. Poets Corner is basically a place where a bunch of misfits from school meet and share poetry together. This story follows Sam meeting new friends, coming more to terms with her OCD, and maybe even falling in love.
So I'll get the one negative thing about this story out of the way so we can focus more on the positives. Sam is friends with the "popular girls" at her school who call themselves the Eights (even though there's like 4 of them, weird I know.) They are everything you'd expect of YA popular girls to be: beautiful, shallow, vain etc. This just turns some of the story into a cliché, which is a shame because this book is very powerful.
Like I said this was my biggest issue with the story, but it in no way made me dislike it.
If you're looking for a more realistic portrayal of mental illness, I really think you should give this a try. I really loved how, I don't know, pro-therapy, this was. In most mental health YA books the characters usually never talk about therapy or medication, and just kind of handle their illness by themselves. This is extremely unrealistic. For the most part if you're diagnosed with a mental disorder you have to take part in some kind of therapy, especially when first diagnosed.
While the plot of the Every Last Word isn't exactly uncharted territory, the way Samantha grapples with her OCD makes this a very distinctive read. It is so easy to sympathize with Sam and it doesn't take long for you to start rooting for her. It also sheds a new light on OCD because most of what I've read is OCD that deals mostly with the compulsions and not the thoughts.
Poets Corner is filled with such wonderful and diverse characters. There is also some romance in the story but it's just so subtle. It never overshadows Sam or mental illness, and honestly AJ is so thoughtful and sweet. Their romance was honestly adorable.
There is so much more to this book than I originally thought there was and I think a lot of people could relate to this. I definitely recommend!