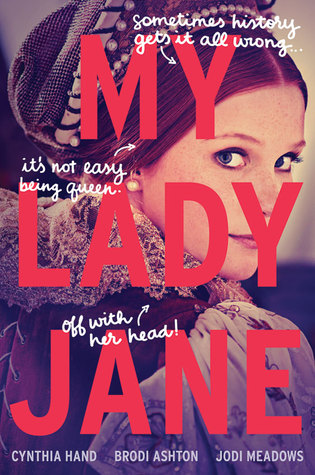 My Lady Jane by Cynthia Hand, Brodi Ashton, & Jodi Meadows
Release Date: June 7, 2016
Rating: 🌟 🌟 🌟 🌟 🌟
The comical, fantastical, romantical, (not) entirely true story of Lady Jane Grey. In My Lady Jane, coauthors Cynthia Hand, Brodi Ashton, and Jodi Meadows have created a one-of-a-kind fantasy in the tradition of The Princess Bride, featuring a reluctant king, an even more reluctant queen, a noble steed, and only a passing resemblance to actual history—because sometimes history needs a little help.At sixteen, Lady Jane Grey is about to be married off to a stranger and caught up in a conspiracy to rob her cousin, King Edward, of his throne. But those trifling problems aren't for Jane to worry about. Jane gets to be Queen of England.

Warning: My Lady Jane may cause uncontrollable joy, unseemly outbursts of laughter in public places while reading, and/or unexplainable needs to procure a horse. Proceed with caution.
Let me start by saying this book is hilarious. At least I thought so. Every page is filled with humor, sarcasm, and irony. It's exactly my type of humor. It's honestly so rare for me to find a book in which I'll actually laugh out loud. This is a different kind of funny than what I'm used to from books. It's never vulagr, it's more of an intelligent or clever kind of humor if that makes sense. It'll sneak up on you, and then you'll find yourself laughing in public with everyone giving you weird looks.
Tea, he was going to offer. Because he was English and that's what the English do under stress: they drink tea.
So now for the actual plot. The gist of it is there's a war between the Verities and Eðians. The Eðians have the ability to shapeshift into animals which the Verities find unnatural. On top of that Lady Jane Grey finds herself in an arranged marriage with a stranger and in the middle of a political conspiracy.
"Firstly, bears are always hungry. So when you encounter the bear, don't act like food."
"Huh?"
"I read it in a book last summer, called—"
G held up a hand. "Don't tell me the name! No time."
"Right. As I was saying, bears are always hungry. Try not to act like food."
"How does one act like food?"
Yes Jane, how does one act like food?
Anyway Gifford, Jane's fiance, while having a very unfortunate name is a wonderful character. He's awkward but adorable and his relationship with Jane made me so happy. They're romance is a prime example of slow-burn. As for Jane, there's no better word to describe her other than kick-ass. She's also a certified bookworm, something we can all relate to I'm sure. Edward was probably the one who grew the most in the story, as he was a bit naive at the beginning.
The characters are well crafted and I had all these shippy feelings towards them. Each character, G, Edward, and Jane were written by a different author and the story never failed to lose its fluidity. I can honestly say the authors nailed all 3 point of views. The plot was well paced, a miracle considering this is about 500 pages long, making it impossible to be bored.
There's also so much girl power in this book. Which is surprising because we're in 16th century England. But My Lady Jane shows us all the sexism present during this time and then makes a mockery of the attitudes and stereotypes through very capable female characters.
"Perhaps you'd be better off sticking to more womanly pursuits, like embroidery or music or-"

She bashed him in the ribs.
I almost didn't give this a chance. Historical fiction has never really been my thing, but it's obvious from the first chapter that this isn't a story you should take too seriously. There were so many changes made to Jane's life, and all of them made the story 1000x more interesting.
This is an over-the-top, rewritten history of Jane Grey's life. Filled with backstabbing, shapeshifters, politics, and romance, I never lost interest in the story. I am so happy I gave this a chance because it was one of the most entertaining stories I've read to date.