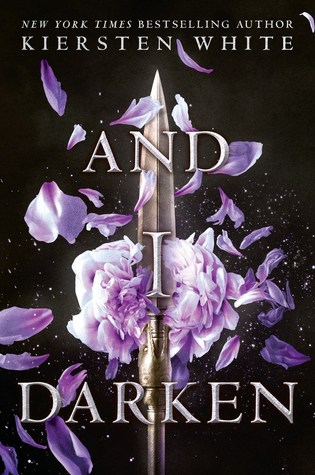 And I Darken by Kiersten White
Series: The Conquerors Saga #1
Release Date: June 28, 2016
Rating: 🌟 🌟 🌟 🌟 🌟
No one expects a princess to be brutal. And Lada Dragwlya likes it that way. Ever since she and her gentle younger brother, Radu, were wrenched from their homeland of Wallachia and abandoned by their father to be raised in the Ottoman courts, Lada has known that being ruthless is the key to survival. She and Radu are doomed to act as pawns in a vicious game, an unseen sword hovering over their every move. For the lineage that makes them special also makes them targets.Lada despises the Ottomans and bides her time, planning her vengeance for the day when she can return to Wallachia and claim her birthright. Radu longs only for a place where he feels safe. And when they meet Mehmed, the defiant and lonely son of the sultan, Radu feels that he's made a true friend—and Lada wonders if she's finally found someone worthy of her passion.
But Mehmed is heir to the very empire that Lada has sworn to fight against—and that Radu now considers home. Together, Lada, Radu, and Mehmed form a toxic triangle that strains the bonds of love and loyalty to the breaking point.
"So the question becomes, Daughter of the Dragon, what will you sacrifice? What will you let be taken away so that you, too, can have power?"
I loved everything about this.
The first in a trilogy, And I Darken follows Lada Dragwlya, a reimagined female version of Vlad the Impaler. This had everything I could want in a book: adventure, complex characters, a plot that never bored me, and politics and scheming.
As a baby Lada was overlooked, because girls were only useful if they were beautiful enough to marry off. But the older Lada got the fiercer she became, she refuses to conform, and never plays the damsel in distess. She is angry, vicious, aggressive, and absolutely psychotic. You will never question how much of a badass she is and I absolutely loved her. I've never read a character as brutal as Lada in a YA story. Honestly, I liked her a little too much. My moral compass was all fucked up while reading this.
"The last time she was up here, she had been… staring up at the sky and dreaming of stars. Now, she looked down and plotted flames."
Radu is Lada's younger brother and he possess all the gentleness Lada lacks. He is kind and charismatic, but considered the disappointment of the family. His weakness is something that both draws and repulses Lada. Their relationship was one of my favorite things about this book. Filled with jealousy and frustration, love and hate, it's incredibly complex.
"..If anyone is going to kill you, it will be me. Understand?"


Radu nodded, snuggling into her shoulder. "Will you protect me?"


"Until the day I kill you." She jabbed a finger into his side, where he was most ticklish, and he squealed with pained laughter.
The romance is never overwhelming and based on mutual respect, not blind love. All the relationships are built into a complex web and you know it's going to get complicated real soon.
While this is categorized as a fantasy, that's not really true. There is no magic here, more like an alternate history. Set in Transylvania during the Ottoman Empire, this story is filled with politics, sexuality, and religion.
This was an insanely satisfying story, all the details intricately woven, and unlike anything White has ever written. Everyone needs to read this!