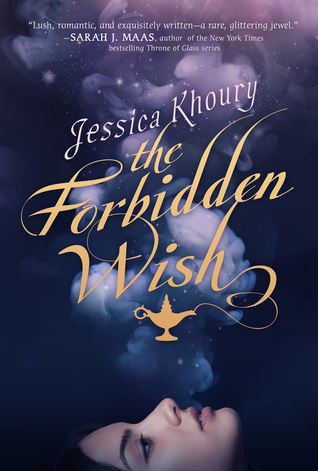 The Forbidden Wish by Jessica Khoury
Release Date: February 23, 2016
Genre: Fantasy, Retellings
Rating: 🌟 🌟 🌟 🌟
She is the most powerful Jinni of all. He is a boy from the streets. Their love will shake the world…
When Aladdin discovers Zahra's jinni lamp, Zahra is thrust back into a world she hasn't seen in hundreds of years—a world where magic is forbidden and Zahra's very existence is illegal. She must disguise herself to stay alive, using ancient shape-shifting magic, until her new master has selected his three wishes.
But when the King of the Jinn offers Zahra a chance to be free of her lamp forever, she seizes the opportunity—only to discover she is falling in love with Aladdin. When saving herself means betraying him, Zahra must decide once and for all: is winning her freedom worth losing her heart?
As time unravels and her enemies close in, Zahra finds herself suspended between danger and desire in this dazzling retelling of Aladdin from acclaimed author Jessica Khoury.
"And what do you know of love?"
"That it must be a choice."
"Oh, my naive thief." I pause briefly to meet his gaze. "Love is rarely a choice."

This was such a great surprise. Heavily romance focused but without any of the annoying tropes, The Forbidden Wish is a magical retelling of Aladdin filled amazing characters, beautiful writing, and a swonny romance.
When Aladdin sets his heart on something—or someone—nothing can stop him from getting it.
This Aladdin is a bit different than the Disney version. With a weakness for alcohol and women, it just makes him more likeable. He's imperfect, reckless, loyal, and there's this darkness inside him that makes him more interesting to read about and to root for. He honestly always managed to make me smile.
Demon of fire. Monster of smoke. Devil of sand and ash. Servant of Nardukha, Daughter of Ambadya, the Nameless, the Faceless, the Limitless. Slave of the Lamp. Jinni.
Zahra absolutely made this book. She was extremely relatable, which I thought would never happen considering she's a four thousand year old jinni. She's witty, strong, self-sufficient, and she can fucking shape-shift. Of course, she's not perfect. She has moments filled with self-doubt and vulnerability, but she's honestly one of the best female protagonists I've ever read about.
Zahra and Aladdin's relationship was so slow-building, with absolutely no instalove. The romance never overshadowed any of the plot and felt genuine throughout the story. The growth from reluctant partners to friends to something more was awesome to see.
Another character we have is Caspida. WHO IS AMAZING. I guess you could call her the Jasmine of the book. She's feisty, strong-willed, and her and her friends are these kick-ass warriors. Her relationship with Zahra is built on respect and support and there's no slut-shamming. Praise!
This is so much more than a retelling of Aladdin. It's beautifully crafted and it pulls you in from the first page. I definitely recommend it to anyone who's in the mood for a fairy-tale retelling.