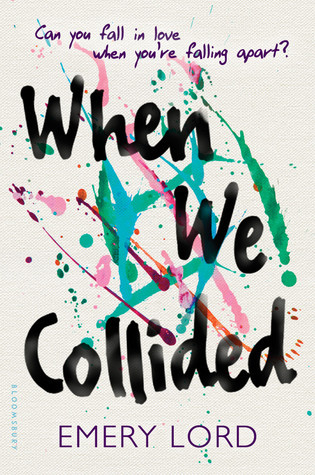 When We Collided by Emery Lord
Release Date: April 5, 2016
Genre: YA Contemporary
Rating: 🌟 🌟 🌟
We are seventeen and shattered and still dancing. We have messy, throbbing hearts, and we are stronger than anyone could ever know…
Jonah never thought a girl like Vivi would come along.
Vivi didn't know Jonah would light up her world.
Neither of them expected a summer like this…a summer that would rewrite their futures.
In an unflinching story about new love, old wounds, and forces beyond our control, two teens find that when you collide with the right person at just the right time, it will change you forever.

This is exactly what I needed. I don't know, school is kicking my ass this semester. I feel like I haven't been able to sit down and read a book in months. And I probably won't read another one for another few weeks.
This book was by no means perfect. The instalove was real and sometimes the relationship angst got to be a bit much. But overall I really adored these characters and I thought they were very realistically portrayed.
Vivi and her mom just moved to Vera Cova, a small town in California, when she meets Jonah. (This is where the instalove comes in.) Jonah recently lost his father and is trying to take care of his siblings and mother, who is struggling with depression.
"To the deepest, most cellular level of my being, I resent people who believe that depression is the same as weakness, that "sad" people must be coddled…"

Vivi Alexander is vivacious, high on life, and she has a bipolar disorder. She's got this artistic soul, she can be selfish, immature, and so I can understand why some people don't like her or can't sympathize with her. But I do think Vivi is an amazing portrayal of a teenage girl living with bipolar disorder. Then we have Jonah Daniels. I adored him and his family. Jonah has five siblings and I loved how each of them had their own distinct personalities and their dynamic with each other. I also enjoyed how loud they were and their love for food.
Lord managed to paint this vivid portrayal of mental illness and I liked how it was talked about so openly (because this needs to be talked about). We got to see two different sides of it. Someone living with it firsthand and someone living with it through a loved one. I also thought the ending was so perfect for the characters.
Filled with vivid characters and one of the best depictions of mental illness, this book can get frustrating at times, but it's honest and I recommend it.
"That's the thing they never tell you about love stories. Just because one ends, that doesn't mean it failed. A cherry pie isn't a failure just because you eat it all. It's perfect for what it is, and then it's gone."