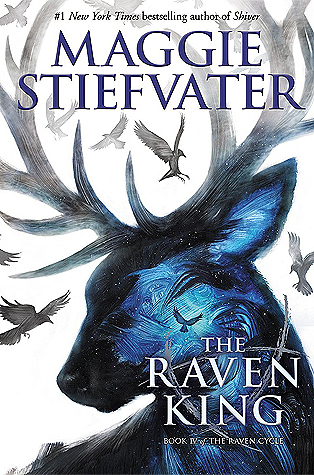 The Raven King by Maggie Stiefvater
Series: The Raven Cycle #4
Release Date: April 26, 2016
Genre: YA urban fantasy
Rating: 🌟 🌟 🌟
Nothing living is safe. Nothing dead is to be trusted.
For years, Gansey has been on a quest to find a lost king. One by one, he's drawn others into this quest: Ronan, who steals from dreams; Adam, whose life is no longer his own; Noah, whose life is no longer a lie; and Blue, who loves Gansey… and is certain she is destined to kill him.
Now the endgame has begun. Dreams and nightmares are converging. Love and loss are inseparable. And the quest refuses to be pinned to a path.
Beware this review is filled with spoilers.
I have no idea what to do with myself right now. I am so conflicted.
First, can we just take a second and talk about Adam and Ronan. Their relationship was everything I ever hoped for. Ronan is my favorite character of this series. I don't know, his lost soul calls to me. I love everything about him. Then there's Adam. The word I'd use to describe my feelings for him is indifferent. At least in the first book. But he has come such a long way and I now love him. So much.
And then we have Pynch. THEY MAKE ME SO FUCKING HAPPY. AND THAT SCENE. THE SCENE. THE KISS SCENE. They are both so precious. (But I needed a bit more. What can I say? I'm greedy.)
There's also Gansey and Blue. So I really liked Blue in the first few books. But in this one I just felt so disconnected from her. I have no idea what went wrong but I just didn't care for her that much in this book. After Ronan Gansey was my favorite. I loved everything about him. But I found him and Blue a bit boring this time around and I have no idea why and it's aggravating me to no end. Is it because the first three books focused on them so much that I'm kind of immune to them? Was it because I already knew how it was going end with them? I don't know.
Also Gansey was dead for like .2 seconds. What was the point? I mean I was pretty sure they'd bring him back somehow but seriously there was like no emotion. Honestly the ending was a bit anticlimactic for me. Was I expecting too much? And all the secondary characters, what happened to them?
My poor and precious Noah. Like what the fuck?? #hedeservesbetter
What happened to the Gray Man and Gwenllian?
What about Glendower? WHAT THE HELL HAPPENED WITH GLENDOWER? Is Gansey okay with everything that happened? Is he just over it? Is this some kind of sick joke? WHAT THE HELL? I am so confused.
And Matthew? He's too adorable, he needs to be protected at all costs.
Can Blue and Gansey just make out whenever they want to now???
I still don't understand why Henry Cheng was involved in any of this. Where the hell did he come from?
I just feel like another chapter or two would have been great. Or let's be honest, another book.
I NEED MORE ANSWERS THIS IS THE WORST THING EVER.
I am definitely rereading this series soonish to see if more things make sense. I doubt it though.
Overall this was an okay conclusion to a really amazing series, if I'm being completely honest it could have been a lot better. The Dream Thieves will still remain my favorite of the series.