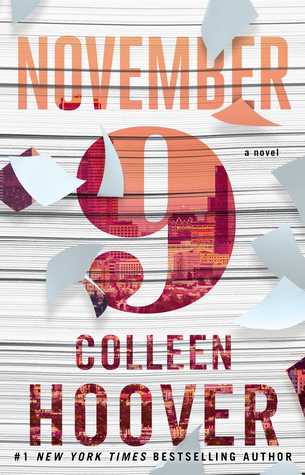 November 9 by Colleen Hoover
Release Date: November 10, 2015
Rating: 🌟 🌟 🌟 🌟
Fallon meets Ben, an aspiring novelist, the day before her scheduled cross-country move. Their untimely attraction leads them to spend Fallon's last day in L.A. together, and her eventful life becomes the creative inspiration Ben has always sought for his novel. Over time and amidst the various relationships and tribulations of their own separate lives, they continue to meet on the same date every year. Until one day Fallon becomes unsure if Ben has been telling her the truth or fabricating a perfect reality for the sake of the ultimate plot twist.
"You'll never be able to find yourself if you're lost in someone else."
Like all of Hoover's other books, November 9 features a refreshingly unique story. Like, I bet you haven't read anything like this before, I sure as hell haven't.
November 9th is just a date, right? To a lot of people it's just a random day of the year. But to others. this date holds a lot of meaning and memories.
On November 9th Fallon is having lunch with her father when she meets Ben. They have an instant connection and decide to spend the rest of the day together. As the day comes to an end, and Fallon has to leave for the airport for her cross-country move, they decide to meet every November 9th at the restaurant they met at, at the same time, for the next 5 years, with no communication in between.
I read this book in one sitting. There's just something about HoCo's writing that's so addictive to me. It's simple, it flows, and I think it's perfect for this genre. Yes, you'll read the description and it sounds a little weird, and you think "how could this possibly work out?" But the characters were so flawed and genuine, the time jumps were completely effortless, and whether or not you guess the "twist" doesn't affect your enjoyment of the story.
I think one of the reasons this is, in my opinion, one of HoCo's best books is the characters, specifically Fallon. She was so open, and funny, and realistic, and one of the best heroines HoCo has written about. Yes, she made dumb decisions sometimes, but what the hell? She's 18 at the start of the book, you're supposed to be dumb at 18, or 19, or 20.
November 9 was the perfect mix of funny and romance and angst. It may frustrate you to no end but you'll be left with an unforgettable story. Plus, there were so many book euphemisms that never failed to put a smile on my face. Yes, there were sexual innuendos through books here.
"'Oh, they were hardbacks alright. And I'm not sure if you're ready for this, but…I have my very own TBR pile. You should see it, Fallon. It's huge."
P.S. LOOK AT THAT BEAUTIFUL COVER. ISN'T IT SPECTACULAR?
P.P.S. The fact that this came out on November TEN irritates me to no end.