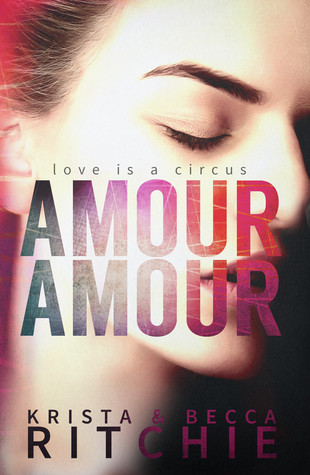 Amour Amour by Krista & Becca Ritchie
Series: Aerial Ethereal #1
Release Date: December 12, 2014
Genre: New adult
Rating: 🌟 🌟 🌟 🌟
Love is a circus.
"Every day," he says lowly, "I hold a person's life in my hands. The circus is based one-hundred percent off trust. I give it all to someone, and they give it all to me."
The best aerial technique won't land 21-year-old Thora James her dream role in Amour—a sexy new acrobatic show on the Vegas strip. Thora knows she's out of her element the second she meets Amour's leading performer. Confident, charming and devilishly captivating, 26-year-old Nikolai Kotova lives up to his nickname as the "God of Russia."
When Thora unknowingly walks into the crosshairs of Nikolai's after-show, her audition process begins way too soon. Unprofessional. That's what Nik calls their "non-existent" relationship. It's not like Thora can avoid him. For one, they may be partners in the future—acrobatic partners, that is. But getting closer to Nik means diving deeper into sin city and into his dizzying world.
Thora wants to perform with him, but when someone like Nikolai attracts the spotlight wherever he goes—Thora fears that she's destined to be just background to his spellbinding show.
"We all traverse in and out of people's worlds, leaving footprints. Some larger, some smaller, but there is always a mark. We can't sweep it away."
I was so nervous to read this book. I make no secret of my love for these authors, the Addicted Series is one of my all-time favorite series, and I was so nervous because I really wanted this book to be just as great. And in a world filled with generic NA books, these author always manage to make their stories unique and beautiful.
The Ritchie sisters know how to write amazing characters. One of my favorite things about the Addicted Series are the characters, and their relationships between each other, whether it's familial, friendly, or romantic. Amour Amour is no different, this book has an amazing set of characters, and their relationships with each other feel genuine and realistic.
Thora James has one more year of college to go before she decides to leave it all behind and follow her dream of joining the show Amour in Las Vegas. The Richie sisters always write such amazing female characters (I mean they created the Calloway sisters, fucking goddesses all of them.) Thora was wonderful. She experiences so much growth throughout the story. I mean, quitting college to pursue your goals while everyone doubts you takes some serious bravery and I found it extremely admirable.
"The things greater than us, Thora, they're not impossible. It's just fear talking, telling you that you can't when you can. I know you can."
In her first night at Vegas she meets Nikolai Kotova, one of the stars of Amour. His relationships with his younger siblings and his unconditional support for Thora made him a memorable hero and I loved his brutal honesty.
The side characters are incredibly well developed, specifically John and the Kotova siblings. They felt so real, and you could feel their ambition, kindness, and talent. They bring humor into the story and fill it with heart-warming moments.
With themes of self-discovery and following your dreams, Amour Amour was a brutally honest read. Thora pushes herself, both emotionally and physically to get to her goals and the amount of road blocks she faced was heartbreaking. And while there is a romance, hello it's called Amour Amour, it never took over the story, and it wasn't the main focus.
"Don't love me more than your dreams, myshka. Because I love you too much to let you give them up for me."
Overall, this is an NA book that avoids the typical NA cliches and I highly recommend it. If you haven't checked out any of the Ritchie twins' books, well, you should.
P.S. I really think a John and Timo book is needed after Infini. (I hope and pray for this) But that's just me.