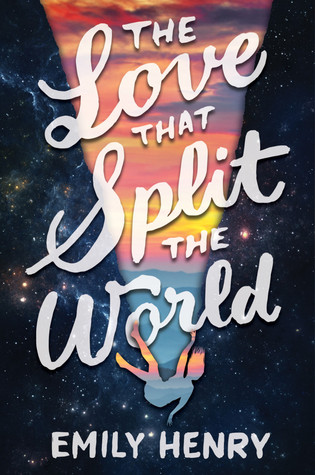 The Love That Split the World by Emily Henry
Release Date: January 26, 2016
Genre: Sci-fi
Rating: 🌟 🌟 🌟
Natalie Cleary must risk her future and leap blindly into a vast unknown for the chance to build a new world with the boy she loves.
Natalie's last summer in her small Kentucky hometown is off to a magical start… until she starts seeing the "wrong things." They're just momentary glimpses at first—her front door is red instead of its usual green, there's a pre-school where the garden store should be. But then her whole town disappears for hours, fading away into rolling hills and grazing buffalo, and Nat knows something isn't right.
That's when she gets a visit from the kind but mysterious apparition she calls "Grandmother," who tells her: "You have three months to save him." The next night, under the stadium lights of the high school football field, she meets a beautiful boy named Beau, and it's as if time just stops and nothing exists. Nothing, except Natalie and Beau.
"This is the story of the beginning of the world, and the woman who fell from the sky."
The Plot
The Love That Split the World is, at its core, a romance. Honestly though, this book is a lot more than that and it makes it almost impossible to categorize. With contemporary, paranormal, and time travel elements, The Love That Split the World is a unique and refreshing read.
Natalie Cleary is enjoying her last summer at home before heading off to college when she starts seeing things. It leaves you wondering what is or isn't real. Then she gets a visit from the mysterious "Grandmother", and gets a vague message saying that she has three months to save him, but she has no idea who "him" is.
I'm tentatively rounding up to 4 stars, but the reason I can't give it more than 3.5 stars is because of the insta-love. It was pretty intense and I can't really ignore it.

The Characters

All of the characters were so fleshed out, dynamic, and diverse. Yay diversity! It is so rare, especially in YA. Friendship and family play a huge roll, even with the strong romance present.
Natalie, our Native American MC, is incredibly likeable. She doesn't slut shame, there's no girl hate with her ex's new girlfriend, and her hopes for the future and self-discovery are extremely relatable. Her relationship with her best friend Megan is so easy and genuine, I loved it! And being adopted she often struggles with finding ways to relate to her family, especially her siblings, and I found it to be awfully realistic.
Another interesting character was Grandmother. Is she God? A figment of Natalie's imagination? A ghost? She has been showing up in Natalie's life for years. She always brings Natalie stories from her culture and with them life-lessons.

The Writing
The writing was gorgeous! Each word was carefully placed and overall it painted an amazingly imaginative picture. I was hooked from the first chapter. The Love That Split the World is filled with stories of Native American culture and mythology from Natalie's background and they bring in a magical tone and quality to the story.
If you're a fan of romances or can just tolerate the heavy romance I'd really give this a try, it really is a unique and strange story.
"Love is giving the world away, and being loved is having the whole world to give."