The Wrath and the Dawn by Renee Ahdieh
Series: The Wrath and the Dawn #1
Release Date: May 12, 2015
Genre: fantasy
Rating: 🌟 🌟 🌟 🌟 🌟
One Life to One Dawn.
In a land ruled by a murderous boy-king, each dawn brings heartache to a new family. Khalid, the eighteen-year-old Caliph of Khorasan, is a monster. Each night he takes a new bride only to have a silk cord wrapped around her throat come morning. When sixteen-year-old Shahrzad's dearest friend falls victim to Khalid, Shahrzad vows vengeance and volunteers to be his next bride. Shahrzad is determined not only to stay alive, but to end the caliph's reign of terror once and for all.
Night after night, Shahrzad beguiles Khalid, weaving stories that enchant, ensuring her survival, though she knows each dawn could be her last. But something she never expected begins to happen: Khalid is nothing like what she'd imagined him to be. This monster is a boy with a tormented heart. Incredibly, Shahrzad finds herself falling in love. How is this possible? It's an unforgivable betrayal. Still, Shahrzad has come to understand all is not as it seems in this palace of marble and stone. She resolves to uncover whatever secrets lurk and, despite her love, be ready to take Khalid's life as retribution for the many lives he's stolen. Can their love survive this world of stories and secrets?
Okay so I'm fangirling like crazy. Why didn't I read this sooner?!
The Wrath and the Dawn is a romance inspired by A Thousand and One Nights. While I love a good romance as much as the next person, it's usually not my all time favorite part of a book. But holy shit. This romance made me swoon and smile like an idiot. And that doesn't happen very often.
"What are you doing to me, you plague of a girl?" he whispered.

"If I'm a plague, then you should keep your distance, unless you plan on being destroyed." The weapons still in her grasp, she shoved against his chest.

"No." His hands dropped to her waist. "Destroy me."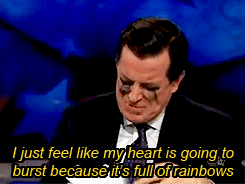 Khalid, the Caliph of Khorasan, takes a new bride every night only to have her executed the following morning at sunrise. When Shahrzad's friend Shiva becomes one of the Caliph's victims, Shazi volunteers herself as his next bride with a plan to get her revenge for killing her best friend. Shazi gets an extra day to live by telling Khalid a story and promising only to tell him what happens next if he lets her see another sunrise.
The Wrath and the Dawn is filled with so many amazing characters, not only Shazi and Khalid, but all of the secondary characters as well. I loved Despina's friendship with Shazi, Jalal brought some humor to the story, Yasmine was just plain interesting. Hell, I even liked Tariq (sometimes).
I loved being inside Shazi's head. She was brave, compassionate, determined, and she speaks her mind and doesn't let anyone think for her. I loved her so much.
"So you would have me throw Shazi to the wolves?"

"Shazi?" Jalal's grin widened. "Honestly, I pity the wolves."

And Khalid. *sigh*
"My soul sees its equal in you."

To be honest, I expected to hate Khalid. I mean he executes a bride every sunrise. Hello?? But as the story progressed I loved Khalid more and more, so that says a lot about Ahdieh's ability to make her characters so realistic. He was a complex character and the glimpses you got throughout the story of who he really is was fascinating. His self-hatred and guilt broke my heart.
Shazi and Khalid are perfect for each other, their chemistry was fantastic, and the way they developed feeling for each other was set in such a realistic and believable way.
"I love you, a thousand times over. And I will never apologize for it."

And the writing was so gorgeous and eloquent. You can tell Ahideh did her research by all the vivid descriptions of the clothing, food, and setting.
This easily became one of my favorite books and if you're a fan of romances you should read this!
But that ending though.